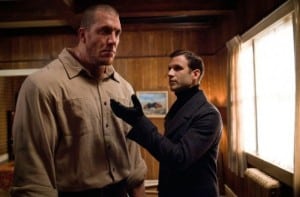 Ben Edlund has tackled quite a few unusual monsters-of-the-week on Supernatural, from the cannibalistic rugarus to the trickster fairies to alternate universes filled with meta commentary. Â This week, his newest episode – titled "Everybody Hates Hitler" – brings a Golem to the Supernatural universe for the first time. Â During a recent conference call, Edlund took the time to speak to journalists about the origin of this episode and what's next for Sam and Dean after the unexpected family revelations that popped up in last week's episode.
The Origin of "Everybody Hates Hitler".  According to Edlund, the idea for this episode "stemmed from thinking about the Thule Society [they pronounce it Thul, instead of Thule-y, because they thought Thul was a more "menacing sound"].  We needed a sort of counter force for the Judah Initiative and the Thule, historically, is perfect because they did exist….They really did fund the early days of the Nazi party and kind of had some weird interactions with an early Hitler.  It laid itself in really nicely.  The Thule Society was kind of thrown into the mix by Andrew Dabb, who reminded me that they existed.  It then followed…necromancy seemed like the right arm of magic to pursue."   How did it go over in the writers' pitch meeting?  "It went over great.  Everybody's waiting for the words 'Nazi' and 'necromancer' to be put together."
The Thule's Master Plan.  "Necromancy, as a rule, is the darkest form of majicks you can use, usually," Edlund explained.  "In this case, it is something that the Thule are working on to try and kind of wed death for their own purposes.  It's like a self-empowerment move as much as anything else.  It's kind of like, in this situation it allows us to create a new species of undead critter, which is basically like a Thule necromancer.  It gives us this….a new species of wretched critter who happens to be a Nazi.  So you can especially kick them in the face.  [Sam and Dean] work out how to deal with those critters throughout the course of the episode."
The Trademark Edlund Humor.  A lot of Edlund's episodes have been some of the most classic comedy episodes of Supernatural ("Hollywood Babylon", "Bad Day at Black Rock" and "Clap Your Hands if You Believe" among them), but lately some of his scripts have been dealing with more dramatic aspects of the show ("Blood Brother", "Repo Men" and "The Man Who Would be King").  Edlund says that "Everybody Hates Hitler" has "gotten a lot more funny than I have in the last couple of episodes.  Even though it revolves around some very dark material, in it is this natural comedy team of a giant Golem with a kind of old school sense of purpose and a young, Jewish man, but not an Orthodox Jewish person…he's supposed to be a Rabbi by the rules of an awakened Golem but he's far from it.  It lends itself to some of my favorite kind of writing.  And [Sam and Dean] dealing with this new sort of comedy team get to be comedic themselves.  Even in exploring the new [Men of Letters bunker] there's a couple of moments [of comedy].  I think it has a higher comedy potential than the last handful of scripts I've done.   The Golem is so physically present, the guy we got to play him (John DeSantis), is amazing.  He's like 6'11'.  Usually when I'm writing something for Sam and Dean and I say "this person towers over Sam and Dean" I'm in a really bad place to begin that discussion because Jared is 6'6′ or something and Jensen is tall.  Trying to get them to be towered over is pretty much an impossibility.  But this fellow [DeSantis] was amazing.  He has a voice like a church bell rolling down a hill.  He adds such presence to the intent of the comedy written in the script."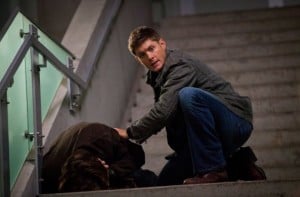 The New Men of Letters Set.  Executive producer Bob Singer also teased the new set last week and Edlund not only echoed his sentiments that "It's gorgeous", but he also dropped a few tidbits about how the set was originally envisioned by him.  "When Adam Glass brought the Men of Letters into his episode it was the opportunity to give [the Winchester brothers] a really, really cool atmosphere-rich kind of space for them to be in and Jerry Wanek has done a beautiful job making it real."  But it was originally a big challenges, because when Edlund first sat down to write the language to make the set become real he said that he "kind of got really prosey in the scripts because I was just so excited to do it I had to limit myself.   It started out unproduceable and then we scaled it back.  At one point it was constructed as 'an echo of the Axis Mundi' and it actually was a mini-universe underground that had all of these spiral staircases.  But this is just gorgeous.  I made something that was unshootable and Jerry made it something incredible."  As for Sam and Dean's reaction…we can see from a sneak peek for the episode that Dean seems to think the new digs are pretty awesome, but Sam is really the one who geeks out.  Edlund teased that Sam is "a little starry-eyed and voracious the way he was at Standford."
Stumbling On to This Case.  The way that Sam and Dean find this week's particular Supernatural case actually stems from the Men of Letters set and will play in to how they view this repository of information.  "The way they get to the case comes from…Sam's really excited that they're in this place and he's really jazed about this wealth of information in the library there and everything that comes from inheriting the Men of Letters headquarters.  Dean is a little less, sort of, geeked out in that regard and kind of points out that all of the information kind of terminates in 1958.  So how it relates to the present day is a mystery to him, in a sense, but then the case actually stems from what they learn while going through the files and Sam, kind of connecting the dots and trying to figure out 'what is relevant today?', gets a hit that draws them into a case that they wouldn't have otherwise pursued.    Ultimately the story stems from their inheritance of the Men of Letters [information]."
The Tablet Arc.  Edlund does admit that "in this [episode] the tablet story is not front and center" and it's sort of "a break in a whole of their quest".  However, Sam is convinced – and the writers seem to be heading in this direction – that the Men of Letters bunker will be important to the mytharc: "[Sam] feels strongly that things will come from this [that will relate to their season-long quest].  He leaps into the library and the data banks of this place.  It, for him, represents a kind of well that he wants to get to know because he feels convinced It's going to actually give them leads and information.  In the history of the Winchesters they've had the myth of secret societies but almost no contact with them.  We've never really made a point of them and they really are such a huge sort of corridor of occult studies."  But Sam thinks they've hit paydirt with this information that will "add up to something that gives us tools to fight the enemies that we are courting this season.  It doesn't directly affect the tablet story but it builds in on their story as time passes."
Don't miss an all new episode of Supernatural on February 6 at 9:00 p.m. ET/PT on The CW. Â Visit our Supernatural page for photos, previews and more.