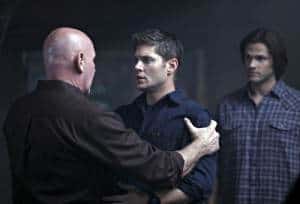 Excerpt from Supernatural: The Official Companion Season 6
EPISODE 6.01 – EXILE ON MAIN ST.
A year has passed since Sam jumped into Hell with Lucifer and Michael, averting the Apocalypse. Dean is living the apple pie life with Lisa and Ben; the Impala retired under a tarp in his garage. While he is having drinks with a neighbor, a waitress named Brigitta strokes Dean's arm and gives him her number, but he tears it up — that's not him anymore. However, when he leaves the bar, he hears a scream from a construction site and his hunter instincts kick back in…
Dean finds blood and claw marks, but nothing else. The next day more claw marks lead him to a garden shed, where he nearly shoots his neighbor's dog. He finds sulfur, but is still caught off-guard when he is attacked by Azazel. He's rescued by Sam, who informs him he was poisoned by a djinn and was hallucinating. Sam doesn't know how he got out of Hell, and Castiel has been ignoring his calls. Sam has been back for a year, but he wanted Dean to have a regular life.
Sam has been hunting with cousins Gwen, Mark, and Christian Campbell… and their grandfather, Samuel, who has also been mysteriously resurrected. After handing Lisa and Ben off to Bobby — who knew about Sam — they go back to Dean's house and use him as bait for the djinn. Brigitta shows up with two more djinn and reveals that Dean killed their father. Dean hallucinates the Yellow-Eyed Demon again, who feeds Ben his blood and burns Lisa on the ceiling. Sam and the Campbells kill two of the djinn, but Samuel secretly abducts Brigitta. Sam wants Dean to return to hunting, but Dean chooses to stay and protect his new family.
'Lisa and Dean's home was a challenge,'production designer Jerry Wanek says, 'because we wanted it as normal as possible. We're trying to establish Dean where he's got this happy life.'Art director John Marcynuk says they were looking for 'something warm, idyllic and inviting — a really nice American colonial home. We found it on the north shore of Vancouver.'Locations manager Janet McCairns adds that they wanted it to be a departure from Sam and Dean's chaotic life. 'It was very comfortable suburbia, so that when their reality came into that suburbia it would really shake things up.'
'One of the challenges for us when we're establishing these locations is that we have to have something that's close to the stage because there are never enough shooting days,'Wanek points out. 'So the challenge for finding Dean and Lisa's was to not only find a house that felt homey and fit their socio-economic level and where Dean could feel at home, but it also had to be close to the stage.'As it turned out, the house they found needed some upkeep, so the crew redressed it. 'We laid a whole new lawn for these people too, just to make it seem a little more charming.'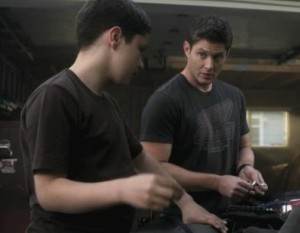 Even Dean was subject to some minor redressing. 'We had his hair a little bit longer and styled it a little bit differently,'says key hairstylist Jeannie Chow. 'Nothing that would cause a lot of attention; just a more settled-in look.'Ben also got an updated look. No longer is he the spitting image of Dean in a younger body. 'No, we started to go away from that because he's entering the pre-teen stage,'Chow says. 'That was a good little gimmicky joke when we made him Dean's Mini-Me, but now that he's a little bit older, he's developing a different style — he's a regular teenager of the time. Nicholas Elia's hair's a little bit longer, so we worked with the hair length that he had.'
Nicholas Elia certainly enjoyed working with Jensen Ackles and has a fun anecdote from the set. 'There was one scene where I was sleeping and Jensen was going to open the door and check in on me, and then he shut the door again. It was actually in the first couple of scenes of the season,'notes Elia. 'He brought a guitar in! He opened the door and he started playing this weird song on the guitar. I couldn't hold it in, I just started laughing. So funny. Then he yelled out, '˜Good night, son,'and shut the door.'
Cindy Sampson also had a funny bedtime moment with Ackles, which was orchestrated by executive producer Phil Sgriccia. 'It's the scene where I come downstairs,'she says. 'I'm wearing a night robe and I ask Dean when he's going to bed. For one of the takes, Phil made me bring down a blow-up doll of Jensen. I had to walk around the corner and say [suggestively], '˜Are you ready for bed?"
Lisa had some competition for Dean's attention in this episode as the attractive djinn waitress had her sights set on the former hunter. Though, in reality, she just had revenge for her father on her mind — something that was hinted at with the tattoo that is visible on her arm when she is flirting with Dean. Of Brigitta's tattoos, and those of the other djinn that accompany her later, Marcynuk says, 'That little ball of design went around and around a few times. From the start, I thought they should be the same tattoos as [those of] the djinn in '˜What Is and What Should Never Be', but then they were going to be something different. We did a lot of research on different tattoos, and there were going to be eyes involved, and fire. But then it went back to the original design so that you could know they all had the same father.'
Executive producer Sera Gamble notes that while the djinn from '˜What Is and What Should Never Be"was their literal father,'he was not the Alpha Djinn. 'I think that what we're saying is there are different levels within the hierarchy,'script coordinator David Reed offers. 'So the djinn Dean grappled with in season two was one of the lieutenants of the alpha.'
Despite the familial link between the monsters, composer Jay Gruska did not tie '˜What Is and What Should Never Be'and this episode together musically. 'I don't think I really visited any previous things from that episode,'he recalls. 'There wasn't a huge amount of score on '˜Exile on Main St.','he notes, 'but it was fun where the neighbors get attacked and all that stuff near the end. I enjoyed composing music for the action and suspense.'