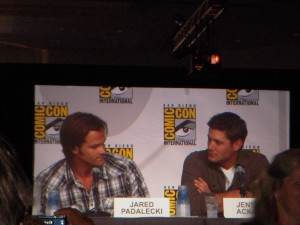 Yesterday I posted seven interviews from the Supernatural press room that took place at Comic Con on Sunday. I also managed to make it to the panel, thanks to a new friend from New Zealand (Mellina!) who held a place in line for me. She and I had a great time together gushing over Jared and Jensen and laughing our heads off at Misha and his Russian accent. A lot of the information revealed is similar to that revealed in the press room, but seeing the dynamic of this fun group of people is not to be missed. The crowd totally ate it up.
I actually missed part of the introductory video as we were making our way into Ballroom 20 (which is basically where I lived for three straight days), but they showed a scene from the forth episode of season 6, which is the first episode they shot because it's the one Jensen directed. We got to see a scene from the Bobby-centric episode that showed Bobby summoning Crowley to his house. After Crowley arrived (SPOILERS!), Bobby told him to return the soul he had bartered away at the end of season 5, but Crowley said all he had to do was make "best efforts" to return the soul and planned to take Bobby to hell in 10 years. Bobby revealed that he had trapped Crowley in an infrared devil's trap and so Crowley called on one of his hell hounds, who came face-to-face with Bobby. End scene (END OF SPOILERS).
The videos below manage to capture nearly the entire panel, from Kripke discussing his new role to the origins of monsters storyline we'll see in season 6. Jensen talks about directing, Misha talks about how heaven is like post-Soviet Russia, Edlund discusses an episode he's writing about faeries and little people, Gamble told us how we would see a new female character this season, Kripke laments about some fans' hatred of the season 5 finale (in an extremely funny way), Jared admitted he hadn't seen the season finale and the entire audience essentially booed M. Night Shyamalan. We were also shown a part of the season 5 gag reel from the DVD, which was hilarious and full of a great deal of sexual innuendo.
I've also included a lot of photos below from the panel. Season 6 of Supernatural will return on Friday, September 24 on the CW.
[imagebrowser id=569 template = flipped]