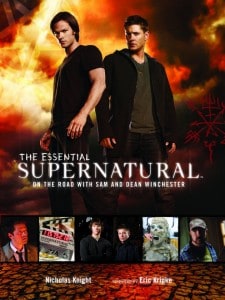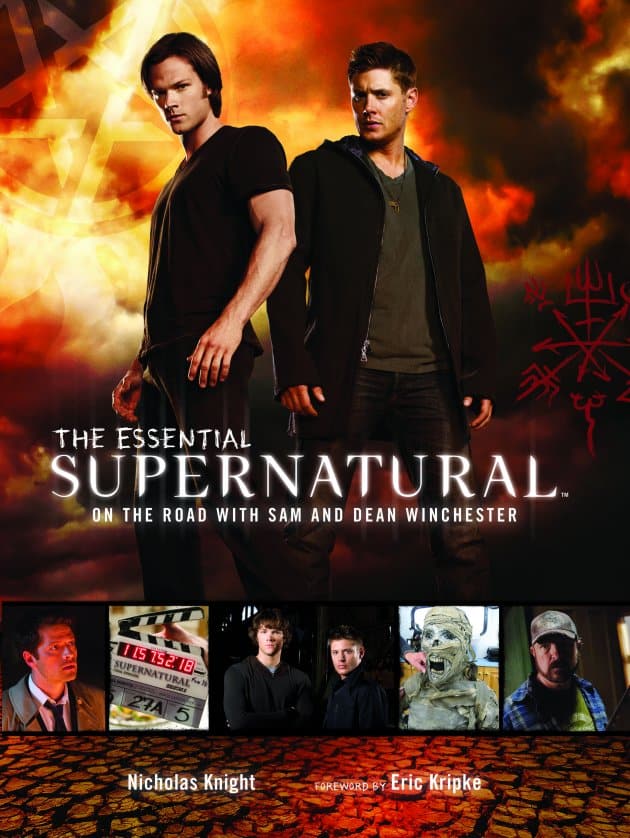 The new "Essential Supernatural: On the Road with Sam and Dean Winchester" book is like a bible for Supernatural fans.  It's an incredibly gorgeous coffee-table book from Insight Editions that includes episode photos, behind the scene details and interviews with the cast, recurring characters, and the crew that chronicles the series from before the pilot to the beginning of the current eighth season.  Nicholas Knight, who has worked on many season guides over the years, has always given fans the opportunity to go behind the scenes of this show (which is something a lot of the fans are interested in, particularly given the extensive mythology of the series).  Given how successful those guides have been, the idea came about to create the "Essential Supernatural" and make an all-inclusive collection of everything Supernatural.   The show's original creator, Eric Kripke, was asked to write the forward and immediately jumped on board.  Despite the fact that he's since moved on to helm another show (Revolution on NBC), he says that "Supernatural will always be my first child" and that he's incredibly proud of the show and all of the people who have worked on it.
Which brings us to a recent call with Kripke and other journalists about the guide and the series.  Kripke talked to us about his experience on the show, how the writer's strike and pitches in the writers' room changed the show in a big way, and what prompted the series to grow from a little show about two brothers fighting monsters to the grand scale of the Apocalypse.
Looking Back on the Show.  "Now that I'm really out of the daily grind, stress and anxiety of Supernatural, I'm watching it and it's in such good hands with Jeremy Carver and Bob Singer.  It affords me the opportunity to really look back as to what the experience was when we really began way back in 2005.  I would say that I look back emotionally, very much like you would look back at old photos of your friends and family.  I look back with nostalgia and I really look back with pride.  I think we created something really special.  I think we had the right mix of writers, producers and studio and network that really allowed us to get away with things that I don't think I'll ever be able to get away with again.  I didn't quite realize how much creative freedom we had – how special it was – until I left.  That we were able to tell stories about God and whether or not there is one and the Devil and faith and really touching on some major issues all in the guise of this little genre show.  I'm really fond of it."
From Horror Movie to Character Development.  "I had a storyline in the back of my head  when we began.  This sort of five year plan that I had walking in that did eventually escalate into facing the Devil and facing the Apocalypse.  But tonally I think I started out with much more B-movie aspirations and really was a fan of horror movies.  I probably would have been happy with just a gory show that was part Evil Dead and part American Werewolf in London.  Bob Singer (who is a much classier writer than me) was very interested in putting character first.  He said 'you have some really interesting characters here with some really rich history [and] we'd be remiss to not really explore that'.  We did it and we found those episodes were so much better than the ones that were straight horror movies.  As creators, we would watch the series improve exponentially the more we focused on the characters [by the middle of the first season].  By the time we hit the second season, my mandate to the writers was 'we're putting characters first and monsters second'.  The deeper we go with the characters the more we discover that you could tell stories about religion and free will and destiny and what happens when you're doing the right thing for the wrong reasons and vice versa.  I think it's one of the reason it's stuck around so long."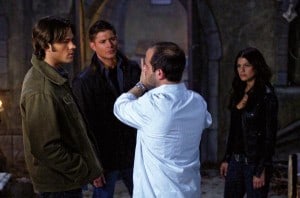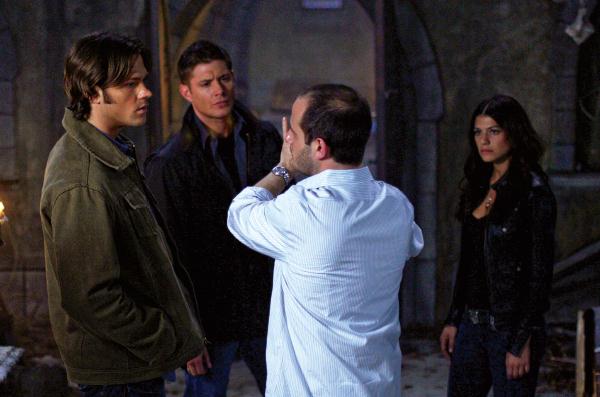 Which Character is Most Like Kripke?  "Chuck!  Chuck has always been my surrogate in the show.  He's a writer with really low self-esteem and spends a lot of time working in his pajamas.  I want to be Dean, but I'm much more like Chuck."
The Brotherly Conflict.  "Conflict is the basis of good drama.  There's more storyline to play when there's some static between [the brothers].  I've always felt – even when I was running the show – that the seasons where Sam and Dean were in total lockstep and in agreement all the time were never as interesting as when we gave them something real and substantial to have conflict over.  It's a stressful position to be in to have one brother that was chosen by angels and one brother that was chosen by Lucifer and have them both be in the same family.  The thematic of the show has been 'family can overcome anything'.  Nothing is more important than the bonds of family.  It's even more important than the bonds of Heaven and Hell.  We give them lots of obstacles, but I believe – at the end of the day – that Sam and Dean will always come together because in the world-view of the show and in my own personal world-view, there's no stronger force than family."
Kripke's Favorite Part of the Book.  "Some of my favorite parts in the book are the conceptual artwork.  Not even the stuff that made it into the show, but stuff that Jerry Wanek's incredible department were putting together as we were even just doing some initial R&D in terms of what the creatures looked like.  That really brought me back.  As we were in the nitty-gritty of producing the show and having arguments and debates about what Bloody Mary should look like in the early years of the show, the artwork in the book is the photos and images we would have those debates over.  It's very honest in terms of what it would look like to produce this show.  There's also several awkward photos of me directing sprinkled throughout the book.  For some stupid reason, I chose [filming during the season 4 finale] to go on a diet.  I got so dizzy on set that I thought I was going to pass out.  I always think it's funny because there's really no way to demonstrate leadership to your crew than to faint in front of them.  I had to grip the edge of my director's chair, go back to my trailer [and then] I spent the rest of the shoot eating burritos."
Keeping the Mythology Straight.  "It's really challenging, but generally that job falls to our writers' assistant, as well as our script coordinator.  Over the years they've compiled a bible – I guess, a Satanic bible – of all of the different monsters and creatures and rules.  It's remarkably hard to keep it all straight.  Every particular creature has its own set of rules and those rules have to be consistent when you come back to them years later.  One of the things I love most about Supernatural and the show being able to be around as long as it has is the complexity of the universe we've been able to create.  It feels like such a fleshed-out world at this point because we've had so much time to explore so many corners of it."
A Lasting Shift in Story.  "You want to map out your characters and your plot and mythology, but never so specifically that you can let a story surprise you.  [My initial storyline] always involved Sam and Dean fighting demons and climbing up that ladder and eventually fighting Lucifer.  I hadn't really considered angels.  People would pitch me angel episodes and I would say no to them.  In between seasons 3 and 4 we were all talking about it and I sort of realized we were missing another side of a coin and, hence, we introduced Cas in the season 4 opener.  That idea of introducing angels – which became such a huge part of the show – was not initially part of the plan."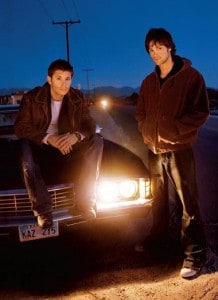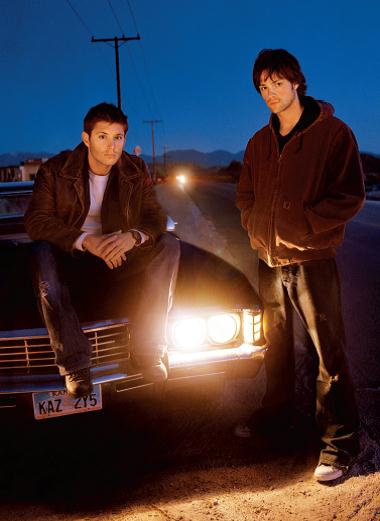 A Missed Opportunity?  "I think we accomplished everything I set out to do in terms of the stories I wanted to tell.  The only thing that springs to mind is right before the writers' strike, that's when Ben Edlund first pitched me Ghostfacers.  He wanted to do an episode of Supernatural as an episode of reality television from an entirely different perspective [of the Ghostfacers show].  He came in, pitched it and brought his guitar into the pitch.  He had written the theme song and then he played it.  I was so excited by that idea and 48 hours later they called the writers' strike.  I was so scared – for a lot of reasons [about the show's future] – and I remember definitely feeling at the time 'I hope we can get back to work this season for no other reason than we can make Ghostfacers'."
Thoughts on Season 8.  "I have been following [season 8].  I'm really pleased with Jeremy [Carver] overall.  I was very pleased with the job that Sera [Gamble] did and I'm very proud of the job that Jeremy is doing, along with the person who's really been running the show from day 1: Bob Singer.  It's every bit the experience of watching your child go off to college.  I'm not involved with the day-to-day, but I check in with advice whenever they'll listen and mostly I'm just proud of how Jeremy and Bob are growing the show."
The Future of Supernatural. "I made a mistake very early in my career on Supernatural.  I had a plan that ended the show after five years.  [After five years], Bob, Sera Gamble and I had the really difficult task of rebooting the show off the storyline that I had basically been wrapping up in season 5.  I think we really learned our lesson from that point forward.  [We created] a more durable mythology that would end if we needed to end and would keep going if we wanted to keep going.  I know Jared and Jensen are on board and doing great.  I think our feeling is that we're happy to keep going as long as the network will have us.  I think we're designed to really keep going and keep exploring."
If you're looking for a last-minute holiday gift for a fellow Supernatural fan (or maybe even a gift for yourself!) make sure to pick up a copy of The Essential Supernatural: On the Road with Sam and Dean Winchester on Amazon
. Trust me, you won't regret it!
Supernatural returns with all new episodes on January 16 (watch a preview). Keep an eye on our Supernatural page for more information about the rest of the season.