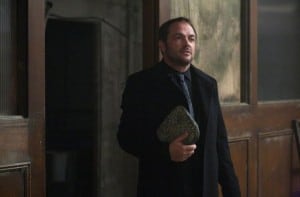 I dare you not to get excited by this new extended preview, Supernatural fans, because it shows us that a lot of awesome things are coming when the show returns from a short hiatus on March 20.
The Winchesters have been preoccupied with closing the Gates of Hell in recent episodes, but if you go back to the January return of the show you'll recall that the last time Crowley appeared he learned that the Demon Tablet was complimented by the existence of an Angel Tablet.  In Heaven, Naomi seems desperate to either protect or get her own hands on the tablet of her bretheren, going so far as to manipulate Castiel (through mind control?) to do her dirty deeds.  The last we saw of Cas, he had been called back to Heaven and disappeared in front of Sam and Dean.
Updated: View photos for this episode!
But he's back in the March 20 episode and so are Meg and Crowley.  In "Goodbye Stranger", Castiel reappears to tell the brothers that Crowley has sent some of his demons to a small town in order to find Lucifer's Crypt.  When the Winchester brothers ask what Crowley wants inside of the Crypt, Castiel lies.  But it seems like Meg is the only one telling them the truth, because she spills the beans that Crowley is searching for the Angel Tablet.  This prompts Sam and Dean to team up with Meg and Cas in an attempt to stop the King of Hell from getting his hands on that tablet.  But can the boys trust Castiel or is he too far under Naomi's control?
Watch a preview below for the March 20 episode of Supernatural on The CW.
Visit our Supernatural page for spoilers, reviews, sneak peeks and more.
http://youtu.be/vsPsv-qCIuY