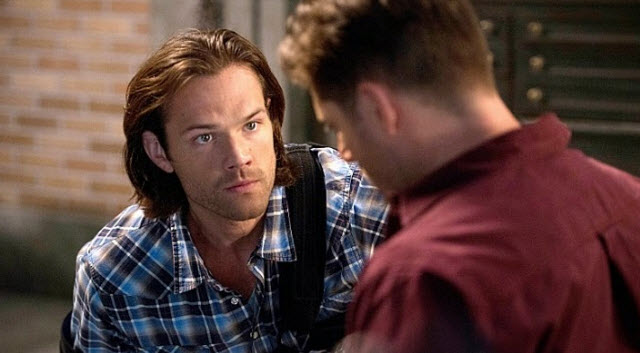 Spoilers ahead from this week's episode of Supernatural…
On Tuesday's episode of Supernatural, "Soul Survivor," we saw what appears the be end of the Demon Dean storyline that began in the final scene of Season 9. The first two episodes of Season 10 largely used Dean's demonic transformation for laughs, as the older Winchester drank and played pool with Crowley, bedded random women he met at the bar, and even got up to sing a couple of songs during karaoke (and he sang them terribly, in case you didn't see it, which was very funny).
However, the third and most recent episode of Supernatural Season 10 saw Sam with him handcuffing  Dean to a chair inside a devil's trap, as he did everything he could to bring his big brother back by injecting him with human blood, praying it would work. By episode's end, it did, as Dean was back to his normal, human self, at least for the time being. The Mark of Cain is still branded on him, meaning that he may have the potential to turn him into a ruthless killer at some point in the future.
Yet while the Mark still being there may bother some fans, I think what bothered others, myself included, was the lack of resolution this storyline had, especially after everything Demon Dean said to Sam, even going as far as telling him that he was responsible for their mother's death. While Supernatural has almost had too many Winchester bonding scenes over the years (to the point where they sometimes come off as parodies of themselves), I did want a little more emotion between Sam and Dean during the final moments of "Soul Survivor," something that is captured pretty well in this piece of Supernatural fanfiction, entitled "Welcome Back."
Now, I don't typically read fanfiction of any kind, and especially not Supernatural fanfiction with how strange it can get (I'm talking about things like Wincest and Deastiel, or however, you spell it). However, "Welcome Back" does a pretty nice job of exploring both Dean's regret and both brothers' relief that he is now back to his normal, whiskey-drinking, cheeseburger-devouring self.
Ultimately, I think we will get some of these emotional moments in future episodes of Season 10 (because there must always be Winchester angst), but without any of them in "Soul Survivor," the ending of the episode felt a little flat. Do I think the Supernatural writing staff should duplicate what happens in "Welcome Home"? No, but I think this piece of Supernatural fanfiction, more than most, does a nice job of depicting both Sam and Dean as the characters that they are and provides a pretty emotionally satisfying conclusion to the Demon Dean arc.
Photo via The CW