One week from today, a new Fringe returns with the much anticipated episode "Firefly." It's also the first week that Fringe and Supernatural share a time slot. This is not good news for those of us who watch both, as we will have to wait an hour to view first run episodes of one or the other. Except me, who will only have to await the HD version of Supernatural thanks to Dish Network Superstation programming. The Supernatural episode against the "Firefly" is "Appointment in Samara," easily one of the best episodes of the season. Fringe's brilliant re-imagining of the Firefly opening sequence coming up next Friday:
Supernatural, "Appointment in Samara."
While next Friday may be a no-brainer given the repeat versus first run episode, what will the future hold? What show will you watch first? And, will you watch both on Friday night, or will you wait a day or two to watch your second choice? Most of us don't "matter" given that we're not Nielsen households, but if statistics prove true our pattern will transfer to those of the masses. So, what will it be? Supernatural or Fringe?
On January 28th, you have no choice but to choose. Fringe will air a new episode called "Reciprocity"and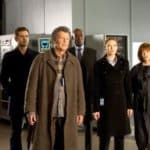 Supernatural will have "Like a Virgin." I, for one, am happy I can watch both in succession with Dish, because I don't want to miss a thing (and, as much as I like Fringe, the title "Like a Virgin" grabs me!). Following are previews; one for the new Supernatural episode and the other full of death quote for Fringe's new time slot, including our illustrious Sam McPherson (since no trailer for Reciprocity is yet available) Weigh in!!
Supernatural,"Like a Virgin":
Fringe's move to Fridays, come January: