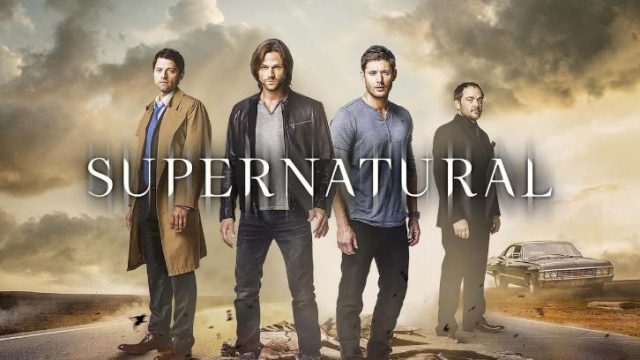 As strange as it sounds, Supernatural has been running for more than a decade, thus making it the single longest-running show on The CW, so much so that when it made its debut, The CW was still The WB. For comparison, this makes it one of the longest-running shows on U.S. prime-time TV, beaten out by titans such as CSI, Law & Order, and The Simpsons, but beating out other titans such as Cheers, Frasier, and Happy Days.
There are a number of reasons that Supernatural has managed to continue running for season after season. For example, the members of its core cast seem to be friends with one another, thus easing the inter-personal tensions that have caused more than one show to collapse before its viewers' interest could run out. Furthermore, the show-makers have been able to raise the stakes in season after season without alienating those viewers in the process in order to maintain an interesting level of tension, which is a rather remarkable accomplishment by any set of show-making standards.
However, it remains to be seen whether Supernatural can continue on for another ten seasons, though to be fair, chances are good that no one who saw it make its debut more than a decade ago would have expected it to go as far as it has. As a result, it might be best to not underestimate a show that has defied the odds in such a dramatic manner.
Consider these reasons that Supernatural should continue for 10 more seasons
There's demand for it
By all indications, the people behind the show seem to be interested in making it until the interest of their viewers run out. For example, both Jensen Ackles and Jared Padalecki have expressed interest in continuing on with the show, so much so that Ackles has actually mentioned focusing less on directing in order to focus more on his character. Furthermore, it is interesting to note that the show seems to have The CW's approval, as shown by the fact that it chose to pre-approve Season 13 instead of waiting for Season 12's audience numbers to make the big decision. Summed up, it seems clear that so long as people are interested in Supernatural, the people behind Supernatural are interested in continuing to make it.
Internet popularity
Based on their presence on the Internet, it seems safe to say that Supernatural has a sizable fandom, meaning that it should be able to keep going and going for some time yet. This is particularly true because the Supernatural fandom seems to have a higher level of loyalty to the show than most viewers to their shows of their choice, as shown by the size of the waves that run through it whenever something of importance happens with the show.
Winchester Brothers
The show has seen a fair amount of escalation when it comes to the stakes over the course of its existence, so much so that it seems next-to-impossible for those stakes to be raised even higher in the future, suggesting that there will be a gradual pulling back of things. However, it is important to remember that at the end of the day, the main source of Supernatural's appeal lies in the Winchester brothers and their relationships with each other as well as the rest of the cast, meaning that it should be able to remain pleasing to its viewers even once it changes focus from the latest crisis with world-shaking implications to hit the setting.
Unexplored territory
There is a fair amount of material in the setting that remains unexplored, thus providing plenty of fodder for future seasons. For example, the current season of the show is exploring the Winchester family's relationships in the context of its background in its chosen line of business, which is rather remarkable considering how far it is into the series. As a result, it seems probable that the show-makers will have no problems introducing more and more material on the show without making it so irrelevant to the main characters that it loses meaning, suggesting that the show still has plenty of life to it.
More topics of interest
Finally, the show-makers have shown the ability to introduce more topics of interest and then follow up on it in later seasons, with the the Winchester family's background being a prime example. After all, while the Winchester brothers had known about their father's involvement with the supernatural from the start, the exact details were introduced over the course of multiple seasons, which served as preparation for the much more extensive treatment that is happening in the current season. In other words, the show-makers are capable of creating more plots and then preparing a path for them on the show, thus ensuring a smooth and organic transition from story to story instead of alienating their audience through awkward changes and incongruent shifts of focus.
Should Supernatural Last 10 More Seasons?
Of course, there are those who will argue that Supernatural should start winding up sometime soon because while it has provided them with more than a decade's worth of entertainment, their interest has faded. However, it is important to remember that a show does not live or die depending on the preferences of a single fan or even a small number of fans but rather all of the people who may or may not be interested in watching it.
As a result, so long as Supernatural can continue bringing in enough viewers to make it worthwhile and the people behind Supernatural are willing to continue with their thus far fruitful collaboration, it seems probable that it will continue running and running on The CW like it already has for all this time. Something that is particularly true because of how the Internet has enabled its fandom to come together like never before, thus resulting in a nucleus of interest that serves to bring in more and more viewers over time.
Summed up, while it seems improbable that Supernatural will be able to continue on for another ten seasons, its record so far suggests that it might not be such a wise idea to count it as being on its way out without actually seeing that happen.