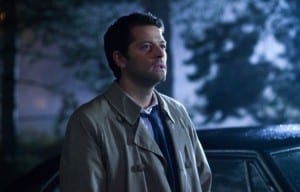 Here's some good news for Supernatural's Castiel fans: Misha Collins has confirmed (and the CW has as well) that he'll be a series regular for the show's ninth season.  Not only that, but he'll also be directing an episode next season, thereby joining series star Jensen Ackles as one of the show's actors who has also directed for the show.
The CW series was recently given an early renewal (along with Arrow and The Vampire Diaries) for the 2013-2014 season, but no formal casting announcements had been made.  However, it's safe to say now that we'll be seeing more of Castiel as the show goes forward.
Misha Collins was a series regular in seasons 5 and 6, but became a recurring actor and then disappeared for a good chunk of season 7 when Castiel supposedly "died" after being possessed by a group of Leviathans.  Castiel has been a recurring character in season 8 after he was saved from Purgatory, but he recently disappeared again in episode 8.10 after returning to Heaven under Naomi's influence.  He's expected to return in a few episodes and with the current myth arc of the show focused on the tablets dictated by God, including the recently discovered Angel Tablet, it makes sense that Sam and Dean Winchester's heavenly friend will be part of the arc.  And we're particularly excited to see how Naomi fits into the bigger picture. 
Supernatural airs on Wednesday nights at 9:00 p.m. ET/PT on The CW.