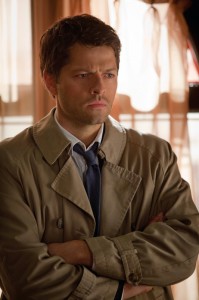 Castiel fans have been eagerly waiting the angel's return to Supernatural since he vanished at Naomi's request at the end of the January return. The Winchesters were suspicious about his cagey behavior and disappearing act and those suspicions aren't going to dissipate any time soon, even after Castiel resurfaces in this week's episode (watch a preview). The angel finally reunites with the brothers to tell them that Crowley has sent a group of demons to a small town in order to uncover one of Lucifer's crypts. But the lies on Cas' side quickly mount as he begins his reunion with Sam and Dean by misleading them about what Crowley is hoping to find.
We spoke with Supernatural star Misha Collins today about Castiel's return to the show and what's in store for the angel.
Castiel's Will Is Not His Own. Naomi has done a number on Castiel during his time in Heaven since the end of "Torn and Frayed" and Misha told us that her control is nearly absolute: "The programming that Naomi has been undertaking with Cas has been deepening and Cas is pretty thoroughly under her control at this point." At the same time, he's made it clear that Castiel is and continues to be strong-willed and there is a part of him that is struggling against her programming. "She is very firmly in charge of Cas but there is, of course, deep down, a shred of the old Cas still struggling to be heard or still struggling to take control. There will be a bit of an internal struggle that plays out in the episode."
The Dark Cloud of Suspicion. In a clip for the episode we see Sam and Dean once again discuss Castiel's behavior and the fact that they think something is clearly "up" with him, a suspicion that Castiel knows about now. But their shared desire to stop Crowley in this episode will overcome these doubts…at least for now. "In this episode, we see that Cas knows that the boys are suspicious of him, but they have a shared mission that trumps that, so Cas is really sort of 'eyes on the prizes, focused on the mission' and it becomes sort of an afterthought that the boys don't trust him. Everyone is aware of the fact that they don't trust Cas and everyone, nonetheless, proceeds with caution."
Naomi's Devious Plans. Some Supernatural fans may have been curious about the fact that Naomi is the only member of this closely-guarded faction of Heaven that has been seen this season. Will we learn more about other allies or lackies that she has? Misha told us that those answers are coming, but you'll have to be patient: "How many angels are either collaborating with her or under her control isn't something that's answered in this coming episode, but it's something that will play out a little bit down the line in coming episodes." And as for her desire to find the Angel Tablet, her reasons for doing so have never been outright addressed, but Misha did hint that the answer is right under our noses: "If the Angel Tablet does anything to angels like what the Demon Tablet is capable of doing to demons, it makes perfect sense that the angels would want to take possession of it either to use as a weapon or just for their own self-preservation."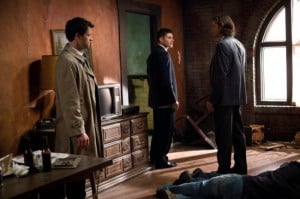 Hell's Minions Return. As mentioned, Crowley returns in this week's episode and the Winchesters and Castiel also stumble upon Meg, who has been tortured by Crowley for information about Lucifer's crypts. Misha succinctly teased that "As per usual, Crowley's objectives and the boys' objectives, those are at odds. Once again, Crowley is a pain in everyone's ass." But he went on to also tell us that there's actually going to be a "cute" moment between Castiel and Meg, who grew closer in seasons 6 and 7 (or, at least, have become "grudging allies" as I said to Misha): "They have an unusual sort of heartfelt and just a frank conversation about their relationship, which is kind of sweet and endearing and unusual for Supernatural. Essentially, in not so many words, I think that Cas kind of admits that he has a crush on her. It's kind of sweet."
What's Next for Castiel? Misha will return as Castiel as season 8 draws to a close I'm sure some fans are already wondering whether he'll visit Sam and Dean's new digs: the Men of Letters bunker. Misha hinted that "I think that's a spoiler for upcoming episodes, but yes". His visit, however, might be brief, because he dropped the spoiler that "[Castiel is] going to strike out eventually toward the end of the season on a sort of mission of his own that is an agenda that is sort of different from the boys."
Sounds ominous, doesn't it? But don't worry, because Misha has already been made a regular again for season 9 of Supernatural and whatever mission he's pursuing, it's not going to land him dead (well, permanently dead, because this is Supernatural).
Don't miss Castiel's return to Supernatural on March 20 at 8:00 p.m. ET/PT on The CW.
Visit our Supernatural page for spoilers, reviews, sneak peeks and more.