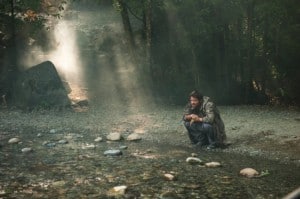 Castiel wasn't seen in the Supernatural season premiere last week, but his presence was felt.  In flashbacks to his early Purgatory days, Dean could be seen interrogating a Purgatory native about Cas' whereabouts.  In the present, Dean evaded Sam's question about Castiel's fate, simply saying that he "didn't make it".
But tonight's all new Supernatural will give us our first glimpse this season of Castiel, albeit in flashbacks to Purgatory.  We know that Castiel mysteriously disappeared from Dean's side in the final moments of the season 7 finale, and Misha Collins has revealed why Dean is separated from his angel friend.  In fact, it ties into what Misha said previously about Castiel seeing Purgatory as a way to atone for his sins: "He left Dean because he wanted to try to keep him safe and [Castiel] being around is actually a liability in Purgatory and he's working to try to right the wrongs of his past doings. This tightrope is really straining things along."
Of course, given this fact, we have to wonder what brings the pair back together.  Based on photos for this episode we know that not only do Castiel and Dean reunite, but Castiel also meets Dean's new friend Benny (who he doesn't like very much).  Is their reunion reluctant on Castiel's part since he so clearly wants to protect Dean and stay away?  And yet, we see from the Canadian preview for tonight's episode that Cas still calls on Dean when he's in danger (see below).  But here's an even bigger question: did Castiel remain behind in Purgatory because he chose to do so in order to give Dean a better chance to escape?  Vote in our poll below to let us know what you think (and if you have any other suggestions as to why he remained behind, let us know in the comments!)
Of course, there might be something else brewing behind the scenes here, which leads us to another tidbit that Misha dropped: "There's something going on with Cas that neither Cas nor the brothers know about. Cas is sort of being manipulated behind the scenes and he's not aware of that and neither [is anyone else]."
This leads me to that mysterious figure watching Sam leave Amelia's house in the season premiere, just before he reunited with his brother, complete with ominous music playing in the background.  The identity of this person is currently unknown, so I have to wonder whether Castiel isn't the only person being manipulated.  Is there something far more sinister going on behind the scenes that none of our boys know about?  Does this manipulation extend to the tablets the Winchesters are searching for?
There's a lot of questions and not too many answers at this time, but Castiel fans who weren't crazy about the…well, crazy…post-Hellucinations version of Castiel will be happy to know that Purgatory has transformed Castiel's personality once again.  Misha assured us that "I think we're seeing a Cas that's actually kind of closer to the Cas in seasons four and five. The process of paying that penance [in Purgatory] has, I think, regained a bit of his innocence and all of his sanity.  His screws are not nearly as loose as they were last year."  Castiel will appear in four of the first eight episodes of the season, with episode 8.07 being a very big one for the angel.
Tune in to an all new episode of Supernatural tonight at 9:00 p.m. ET/PT on The CW.  For more on the episode, including Jared's hints about what the Winchesters come up against in their search for the tablet, click here.  And visit our Supernatural page for previews and sneak peeks.