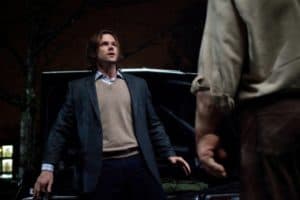 From the wacky and wonderful mind of Ben Edlund comes an upcoming episode of Supernatural that pits the Winchester brothers against a creature they haven't faced before: a golem.
In an episode titled "Everybody Hates Hitler", Sam and Dean are investigating the mysterious death of Rabbi Bass, a man who spontaneously combusted.  As it turns out, the Rabbi was investigating Nazi Necromancers.  Then the case takes an even stranger turn when the Winchester brothers are attacked by a golem that belongs to the Rabbi's grandson.  Unfortunately, the grandson has no real knowledge of how to control the golem which puts everyone in danger.
Is it just me or is the costume department mixing things up lately?  Here we have Sam in a sweater vest under a blazer and lately we've seen the boys in some new (and attractive!) suits.  Also, how hilarious is it that Sam is finally not the tallest guy in the room?
Visit our Supernatural page for spoilers, sneak peeks, reviews and more.