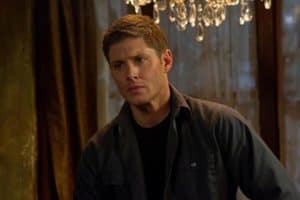 The most recent episode of Supernatural was quite a treat. While investigating a case that Sheriff Mills brought to their attention, the boys came across the God of Time, who had a particular fondness for hiding out in 1944 because he had fallen in love with a woman in that time. Unfortunately, when Dean rushed him after seeing him drain a man of his years, he was transported back to the 1940s as well. While there, Dean came across famed Untouchables member Eliot Ness and the two teamed up to take down the God. In the present, Sam worked with Sheriff Mills to find a way to bring Dean back, which involved summoning the God at the right time and killing him.
Supernatural is currently on hiatus until February 3. When the show returns, with an episode titled "The Slice Girls", the boys will be investigating a gruesome case that involves victims whose hands and feet are cut off and branded with a symbol (which is apparently the symbol for Amazon warriors). Unfortunately, Dean happens to have a one-night stand with a very odd woman in the episode (who appears to be connected to the strange happenings in town). She gets pregnant with a girl that is born and fully grown in a matter of days. And she's Dean's daughter. Yikes!
You can view a trailer for the episode here.
To pass the time during this mini-hiatus, check out our most recent slide-show: Dean's Most Memorable Scenes.