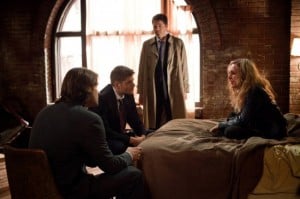 Supernatural is on hiatus for a few more weeks, but we'll be treated to a mythology episode when the show returns.
Castiel returns from Heaven in "Goodbye Stranger" to tell Sam and Dean that Crowley has sent some of his minions to a small town to search for Lucifer's Crypt.  Why?  Well, Castiel is still being controlled by Naomi, so he lies to the Winchesters about what Crowley is looking for.  Meg – who also returns – is a bit more forthcoming and tells the brothers that Crowley is search for the Angel Tablet.  Could it be that the ultimate fallen angel was in possession of this artifact?  Is that why Naomi can't get to it without help?
The CW has released photos for the episode which feature a very awesome-looking under-lit table in the Men of Letters bunker that we haven't seen before, as well as Dean being happy about some old fashioned porn.  Speaking of the Men of Letters bunker…check out our newest Supernatural slideshow: 20 Books We Hope the Winchesters Find in the MoL Library (A Parody).
Click the link below to view photos for the March 20 episode of Supernatural on The CW.  You can also watch an extended preview here.
Visit our Supernatural page for spoilers, reviews, sneak peeks and more.