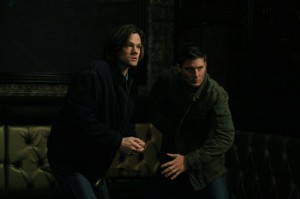 Dean really hates witches on Supernatural.  No, seriously, he really, really hates witches.  Unfortunately, this is a  group that the Winchesters face again and again on the show and they're about to have another confrontation in a late February episode.
In "Man's Best Friend With Benefits", we learn that a police officer named Kevin started practicing witchcraft after working a case with Sam and Dean.  Now he's having nightmares where he's killing innocent people.  But a strange happens: the murders actually start taking place.  The Winchester brothers start investigating the case when Kevin's "familiar" calls them for help.  Of course, since this is a witch, the brothers aren't entirely certain they want to help him.
You know what I love about these photos?  The brothers mix up some Molotov cocktails.  Granted, there's not a lot of photos, but knowing that flying projectiles are going to appear in this episode automatically makes it cool.
Click the link below to browse through photos for the February 20 episode of Supernatural on The CW.
Visit our Supernatural page for spoilers, photos, sneak peeks, reviews and more.