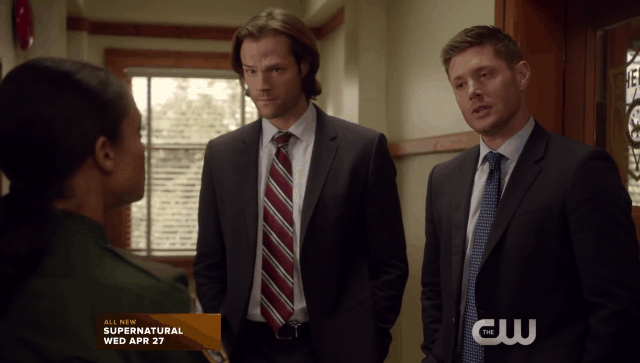 Yay! Supernatural is back this week. After that cliffhanger from Episode 18, I couldn't wait for the next episode. But, it looks like they're gonna go with a filler episode this time. Back to hunting for the Winchesters. Except, this time it's not demons or vengeful spirits or anything that they've hunted before. This time, the Winchesters will have to channel their inner Mulder and Scully and do some alien hunting. As if, the brothers themselves weren't enough, this time they'll be joined by 2 more hunters who, apparently only hunt aliens. I know, sounds a bit too much like X-Files doesn't it? Well, after watching the trailer, you'll think it's more The Walking Dead. Doesn't look like a meta episode though. I love it when they do those. Anyways, watch the trailer here:
https://www.youtube.com/watch?v=r1N67fOJRI8
Ha, flesh-eating zombie aliens. Can Supernatural get any more supernatural? Well, remember that one time when…Ok, I get it. Crazy stuff happens on the show. But it's one of the reasons why we love it. Here's an official synopsis for the episode titled "The Chitters":
"Sam and Dean are visiting Colorado for their new hunting case this week. In a small town of Colorado, people mysteriously disappear. What is more surprising is that the incidents of disappearances take place every 27 years. During their investigation, the brothers encounter a pair of hunters who are seeking personal revenge from the demon behind the disappearances."
In other news, it's rumored that 'The Vampire Diaries' actress Elizabeth Blackmore who will play Lady Tony Bevell. Are the brothers gonna get into a royal mess at some point then? We're gonna have to wait and see. I'm personally more interested in the main story arc rather than these filler episodes. But it does look like we have some interesting stuff coming up.
Supernatural airs tonight at 9/8c on The CW.