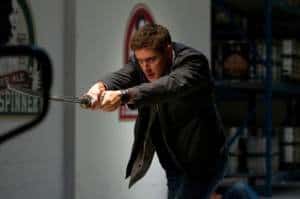 Sam suffered from a complete breakdown in this week's episode of Supernatural. After days of not sleeping because of Lucifer's constant meddling, he got hit by a car and ended up in a mental hospital after the doctors diagnosed his condition. Dean set out to find a way to help his brother, which eventually led him to a healer that was supposed to be legitimate: a man named Emmanuel, who just so happened to look exactly like Castiel (guest star Misha Collins).
In fact, it was Castiel, who walked out of the lake months ago and established a new life, complete with amnesia about his true identity and a wife. He and Dean set off to help Sam, but a lot of demons decided to track Dean along the way. He got into a spot of trouble until Meg joined in. Together, they made their way to the hospital and, when they encountered some demon guards, Dean and Meg told Cas the truth about his identity. He managed to reactivate his demon smiting powers, which jogged his memory.
Back at the hospital, Sam was still going crazy, but found time to help a fellow patient with a hunt. He managed to get rid of her ghost brother, but his condition continued to spiral. Eventually a demon/orderly tried electric shock therapy. Fortunately, Castiel was able to save Sam. But the consequence is that he's essentially taken on Sam's condition. Now he's stuck in the hospital with hallucinations of Lucifer. For more on the episode, read our full recap and review.
Garth (guest star DJ Qualls) returns in the March 30 episode of Supernatural. He calls the Winchesters to get some help tracking a Japanese creature. The twist? You can only see it when you're drunk. Dean decides to take on for the team, gets completely wasted, grabs a sword, and goes to town on the monster.
Watch a preview below for the March 30 episode of Supernatural. You can also view photos for the episode here.
And don't miss our newest Supernatural slide-show: Castiel's Most Memorable Scenes.