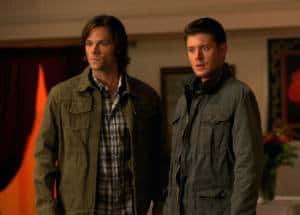 DJ Qualls returned as a guest star on this week's episode of Supernatural. After a salt and burn failed to stop some deaths, he called the Winchester brothers for help. The boys soon realized that a monster was systematically killing people for revenge, but it could only be seen when drunk. So the boys decided to take one for the team and got incredibly smashed. All of the action converged on a brewery connected to the case and Dean was able to use a special sword to kill the Shojo. But the biggest surprise came at the end, when Bobby's ghost actually appeared! It turns out that he is absolutely haunting the Winchesters, but he can't actually interact with them. For more on the episode, read our full recap and review.
Unfortunately, Supernatural is on hiatus until April 20, but once the show returns, it's all new episodes until the season finale in May. The next new episode will feature guest star Jamie Luner as Annie Hawkins, an old hunter friend of the Winchester brothers. Perhaps "friend" isn't specific enough…she also had "relations" with both brothers (lucky girl, right?). Annie calls the boys for help, but when they head out to help her, they learn that she's disappeared. They trace her steps and learn that she was last spotted at an old house haunted by a powerful ghost. But will they actually see Bobby's ghost in the house?
Watch a preview for the April 20 episode of Supernatural, airing at 9:00 p.m. ET/PT on The CW.