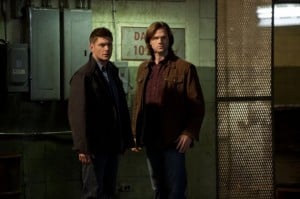 Sam and Dean faced a moral quandary in this week's Supernatural when a witch needed their help.  After a witch/police detective (James) who had formerly worked with the brothers on a case started having nightmares that coincided with real deaths, the witch's familiar reached out for help. Sam and Dean proposed that he had angered another witch (Portia) who might have hexed James into committing these murders. But it turns out that he was being framed by one of his fellow police officers who was using a witch named Spencer to help frame James.  When James confronted Spencer, he admitted that he did all of this because he wanted Portia.  Fortunately, the Winchesters and Portia were able to defeat Spencer and save James.  But in a disturbing twist, Sam is starting to show signs that he's physically affected by the trials in a very bad way.
In next week's episode, the Greek Gods invade the Supernatural universe. Â Sam and Dean are investigating a possible case involving zombies when they discover that their potential victim is actually Prometheus. When Artemis and Zeus show up, the Winchesters realize that they're dealing with some serious heavyweights.
Watch a sneak peek for this episode.
Watch a preview below for the February 27 episode of Supernatural on The CW. Â You can browse through photos for the episode here.
Visit our Supernatural page for spoilers, photos, sneak peeks, reviews and more.
http://youtu.be/6xRqo_pGZek