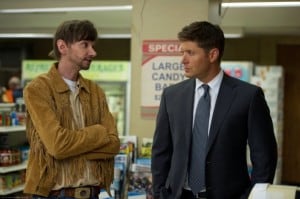 Benny reappeared in this week's all new Supernatural.  After he decided to go after his maker, Quentin, for some payback, he got sidelined by a group of vampires and some serious injuries.  After he called Dean for some help, the two of them came up with a plan to go after the vampires together.
But when they ran into some trouble, Dean called Sam for help and the first meeting between Sam and Benny occurred   How did that go?  About as awkwardly as you'd expect.  For more on the episode, read our full recap and review.
DJ Qualls returns as Garth in next week's all new episode. Â Sam and Dean roll into town to investigate a murder, only to find out that Garth is already on the case. Â He's also taken over Bobby's responsiblities in the hunting community over the past year which doesn't exactly thrill Dean. Â The trio soon discovers that an "avenging ghost" is responsible for the murders. Â And it seems like Sam and Dean are finally going to have a long-overdue talk about their relationship.
Watch a preview below for the November 7th episode of Supernatural airing at 9:00 p.m. ET/PT on The CW. Browse through photos for the episode here.
Visit our Supernatural page for more sneak peeks, reviews, photos and spoilers for season 8.
http://youtu.be/NJEZv6xw1wE