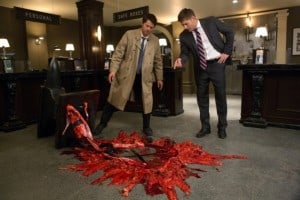 Castiel returned from Purgatory in an all new episode of Superantural this week and he's back to riding in tthe back seat of the Impala.  After the boys reunited, they were called by Mrs. Tran who delivered the unfortunate news that Kevin had been kidnapped by Crowley after they were betrayed by a witch and turned over to the King of Hell.  Fortunately, Castiel regained his full powers in time to save Kevin's life (although, not his pinky finger) and now the Trans have been shipped off to Garth while the Winchesters continue their tablet search.  For more on the episode, read our full recap and review.
Supernatural is on hiatus next week but will return at the end of November for an out-of-the-box episode that begins with Castiel's announcement that he wants to become a hunter like the Winchesters.  To prove that he's serious about his new career path, Cas finds a hunt for the boys.  When they arrive in town they discover that the multiple deaths in the town all strangely resemble cartoon deaths (view photos).  They also come across an old hunter who is trapped inside of his own head, which just so happens to resemble a cartoon.  After Sam and Castiel travel inside his head, can they convince him to join the fight to solve these strange cases?
Watch a preview below for the November 28th episode of Supernatural airing at 9:00 p.m. ET/PT on The CW.  Visit our Supernatural page for spoilers, sneak peeks, reviews and photos.
http://youtu.be/GfAkXrvoNtg