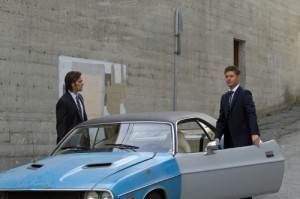 This week's Supernatural featured double Winchester brothers, a conspiracy nut, a new car for Dean, a crime spree, a kiss and the reveal of a big secret. When two leviathans cloned Sam and Dean and started going on a town-by-town crime spree (following the same route as the Winchesters in season 1), the boys set off to figure out how to stay off the grid, while Bobby continued to experiment on their captured leviathan to figure out a way to kill them once and for all.
When the boys were finally arrested by the police, the leviathans happily headed to the local jail to kill them once and for all. Fortunately, Bobby had figured out how to kill leviathans (thanks to a little help from Jodi Mills) and the boys were able to stop their clones, but not before Fake!Dean told Sam that his brother had killed Amy behind his back.
Naturally, Sam is kind of pissed.
In the November 4 episode of Supernatural, Sam and Dean get back to some good old fashioned ghost hunting. The brothers will be heading to Lily Dale, which is known as the most "psychic" town in the country. They learn that a spirit is killing off psychics one at a time, but they run into trouble trying to figure out who is controlling the ghost in a town full of people who are communicating with spirits.
Below is a trailer for the November 4 episode of Supernatural.