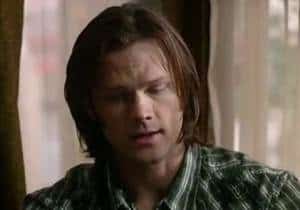 We got a terrific and fun episode of Supernatural this week. Sheriff Mills returned and told the guys about a strange case where mummified bodies were turning up in Ohio. Without realizing it, the boys were tracking Chronos, the God of Time. While attacking him, Dean was transported back to 1944, where he was promptly arrested and came across Eliot Ness. It turns out that Ness himself was a hunter and the two started tracking Chronos (who called himself Ethan in this time and even had a girlfriend). Back in the present, Sheriff Mills joined Sam to figure out a way to bring Dean back to the present. It took a lot of work, but they were eventually able to summon Chronos and Dean to 2011. For more on this week's episode, read our full recap and review.
Supernatural will be going on a short hiatus for the next two Fridays. But don't panic, because new episodes will resume on Friday, February 3. In that episode, titled "The Slice Girls", The Vampire Diaries' Sara Canning will be guest starring as a woman named Lydia. Sam and Dean roll into town to investigate a bizarre – and disgusting – case where the victims' hands and feet have been cut off and branded with strange symbols. Sam heads off to do some research, while Dean heads to the bar to question the locals. While there, he comes across Lydia and the two have….ahem….a pleasurable evening. Sam learns that the symbol on the bodies is that of Amazon warriors. Who wants to bet that Lydia is an Amazon? Worse yet is what happens next!
Watch a preview for the February 3 episode of Supernatural below. And don't miss our newest Supernatural slide-show that was posted earlier today: Dean Winchester's Most Memorable Scenes.