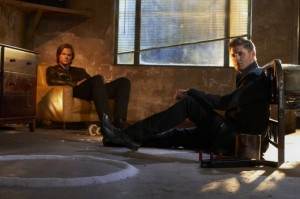 The CW has officially renewed Supernatural for an eighth season, the network announced today in an email. Originally premiering on The WB network in 2005, Supernatural became a cult favorite and gained a fast group of devoted fans. While many shows can suffer from fan fatigue in later years, the Supernatural fandom keeps going strong. In its seventh season, the show's fans voted Supernatural the People's Choice Best Drama Series and Best Sci-Fi Series.
Supernatural moved to Friday nights at 9:00 p.m. ET in its sixth season, originally being re-paired with Smallville when that series was still on the air. This season, it's lead-in has been Nikita. While the show's ratings have, admittedly, declined year over year, The CW seems to be satisfied with its performance on Friday nights and has decided to give it another year. Stars Jensen Ackles and Jared Padalecki are signed on for an eighth season. It's likely we could see Jim Beaver (Bobby) and Misha Collins (Castiel) on the show next year as well, although that has yet to be confirmed.
In its seventh season, Supernatural has been all about stripping away at the Winchester brothers' resources and allies. After a group of monsters – the Leviathans – were released from Purgatory, and caused the disappearance of their friend and ally Castiel, the brothers have had to deal with the destruction of their home-base – Bobby Singer's house – and the hiding of their beloved Chevy Impala. Later, they tragically lost their father figure, Bobby, but he has returned as a ghost in recent episodes. The Winchesters have only themselves and a quickly dwindling group of allies to reply on in order to defeat the Leviathans. Complicating matters has been the return of Sam's memories from his time in Hell, which has left him with hallucinations of Lucifer that have had a severe impact on his mental state. That was recently taken away by Castiel, who transferred the hallucinations to himself, but now we have to wonder about his mental state.
Rumor has it that season 7 will end on a cliffhanger, so it's likely that we'll have to wait until next season for the conclusion of the story arc from the finale. But that's just a rumor, so who knows that the finale will bring. With One Tree Hill having aired its series finale, Supernatural will now be The CW's longest running show. The season 7 finale of Supernatural will air on Friday, May 18.
It was also recently announced that co-showrunner Sera Gamble has stepped down, and former co-producer and writer Jeremy Carver will be running the show in season 8, along with executive producer Robert Singer. We're very excited to see the mark that Carver will put on the show next season.
For more about Supernatural, browse through our showpage for all of our previews, sneak peeks, spoilers, photos and recaps for the show! A new episode of Supernatural airs this week on May 4. Check out a clip from the episode here.