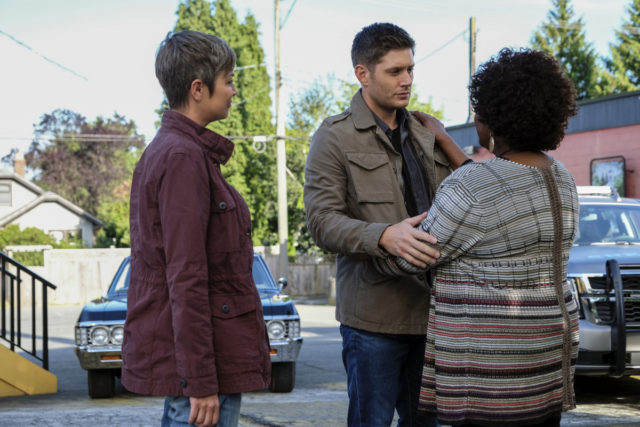 This week's episode of Supernatural served a dual purpose. It not only caused some conflict between the brothers Winchester and Jack to reach a boiling point, but also to meet one of the Wayward Sisters, a character in the planned spin-off starring Kim Rhodes. Unlike Bloodlines, Wayward Sisters is a show that Supernatural fans have been clamoring for in the years since Jody Mills began taking in daughters and hunting. It's got all the potential in the world, and I'm that much more encouraged after watching "Patience". Her character will add diversity, legacy, and a little more butt-kicking to the new show.
Patience, as most of us TV news junkies already knew, is the granddaughter of Missouri Moseley, a psychic friend of the Winchesters that they hadn't heard from in over a decade. But of course, most people who end up in Jody's crew have suffered some kind of loss. So this episode marked the return and the end of Missouri Moseley. It was wonderful to see her again, though, and her exit was a compelling one. I wish she'd had a few more appearances over the last 13 years, but I'll take what I can get!
I like Jack and the dynamic between he and Sam, but the highlight of this episode was most definitely Dean and Jody's hunt. This was the first real hunt of Season 13 and it's honestly something of which I seldom tire. Really, Dean hunting with Jody was both a nice change of pace and a subtle return to the norm for Supernatural. It was well executed, and of course excellent to see Kim Rhodes again. With Dean reeling from the "loss" of his mother, his surrogate mother Jody Mills was a timely substitute.
Still, I find the Jack thing interesting because of the role reversal of Sam and Dean. With Bobby, Jody, Mary, etc., the boys are seeking out their missing parental figures. Now, the tables have turned and they have to mentor a young, powerful being. Dean, of course, holds him responsible for the loss of Mary and Castiel, but Sam sees his potential to do good for the world. Of course, we know that Dean will put up a fight but slowly relent because that's who he is and that's how this show operates. But I don't mind. As of now it's still interesting so I'm rolling with it.
Here are a few other thoughts:
Speaking of interesting, I wasn't expecting Jack to be the one to raise Castiel from the dead, but it's looking more likely that Jack can save his surrogate father from the great beyond. And it was wonderful to finally have the great Misha Collins back on our screens.
I'm promised by the fact that Patience's father was not killed, but rather he's just running from the hunting life. I'm that much more excited for the spin-off now, and it's nice to know that they're not all 100% orphaned.
This episode hit all the right emotional beats and was a fun, classically formatted episode of Supernatural. Hopefully this means more great things to come in Season 13, and if it was any indication of the spin-off…it's a great start.
What did you guys think? Did you enjoy the episode? Excited for the spin-off? Let us know!
Supernatural airs Thursdays at 8/7c on The CW
Supernatural Season 13 Episode 3 Review: "Patience"
Summary
Dean and Jody set out on a hunt to save Missouri Moseley's family, while Sam works to train Jack on this week's strong episode of Supernatural