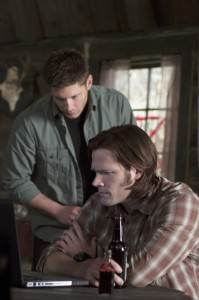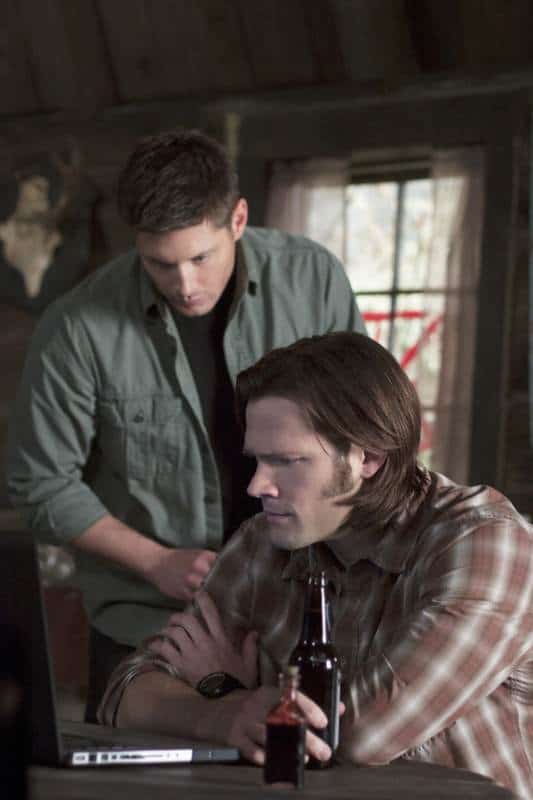 The penultimate episode of Supernatural brought me the return of one of my favorite monster characters: the Alpha Vampire (played by Rick Worthy). For that, it gets an automatic "awesome!" ranking because he's the coolest vampire around (eat your heart out, Edward Cullen). It also meant the return of the always-welcome Crowley and perfectly set up the season finale. Here's what happened in this week's Supernatural:
A Sprinkle of Blood, A Dash of Bone…Mix Well and Serve
After new prophet Kevin helpfully decoded the Word of God tablet last week (and subsequently got captured by the Leviathans), Sam and Dean were able to get one ingredient: the blood of a fallen angel (i.e. Castiel). Unfortunately, that's all they really have right now. In fact, they're not even entirely certain the plan to defeat Dick Roman will mean all of the other Leviathans just drop dead. But Dean, as usual, is happy to just have a plan.
Bobby popped up with some helpful advice: the other two types of blood needed must come from a demon and an Alpha. He suggested they call on their BFF-in-times-of-need, Crowley, and try to get his blood and a suggestion on where to find the last remaining Alpha (assuming there is one).
Some people are suggesting that they'll need one of Dean's bones to satisfying the "bone of a righteous man" ingredient. Normally I would agree, but Bobby's emphasis in this episode of needing the bone from someone as good and light as the Leviathans are dark and hungry makes me want to rule Dean out. Maybe I'm wrong, but while Dean is clearly a righteous man, I wouldn't suggest that he's the antithesis of the Leviathans. Dean has darkness inside of him (ie. torturing souls in Hell). I would wager that maybe Kevin is the person whose bone they need. Of course, I could be way off in my guess here, so I guess we'll have to wait until the finale to find out.
The problem with Bobby is that his actions are becoming increasingly more erratic and angry and the Winchesters are definitely taking notice.
Road Trip
The boys performed a little summoning spell, which Crowley happily responded to. He agreed to provide his blood, but only if he could go last, because it's too valuable a commodity to risk falling into the wrong hands. It's quite interesting that Dean refused to spill the beans about Castiel surviving and giving them his blood. He denied obtaining the fallen angel blood at all. I very much enjoy watching the boys be clever in their dealings with demons, because they so often get screwed over that it's refreshing for them to turn the tables on occasion.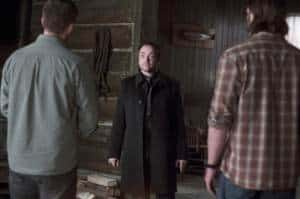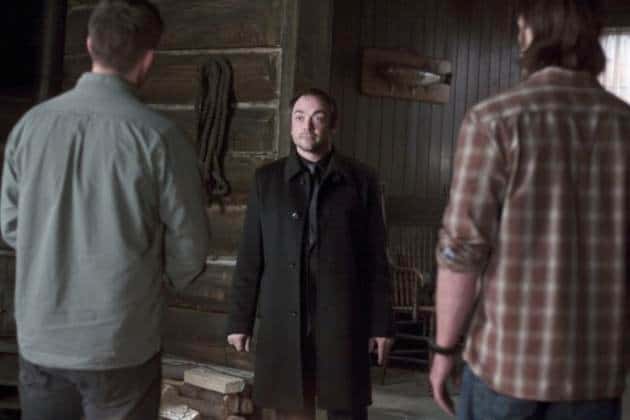 Crowley shared some interesting news: the Alpha Vamp was able to escape before Castiel fried all of the Alphas and Crowley was able to give them a starting point as to where to find him. The Winchesters (and Bobby's ghost) were off!
Climbing the Corporate Ladder
Meanwhile, Dick Roman was revealing his newest corporate acquisition: Sucrocorp. The manufacturer of food products (primarily high-fructose corn syrup, as in, the stuff that's in pretty much everything), Sucrocorp was Dick's next great step in taking over the human race. By putting their special ingredient into the world's food supply, the Leviathans could now turn all the humans into slaves and pick them off one by one. When Sam and Dean realized his plan, Sam suggested they refrain from eating anything processed. Dean became despondent when faced with the possibility of eating only fresh fruits and vegetables. Sam, meanwhile, is probably thinking "I've been training for this my whole life and now it's my time to shine!"
Creepy Girls Are Always Creepy
When the Winchesters arrived at a house they thought belonged to the Alpha they found a group of vampires who were all mysteriously dead (not decapitated). They assumed that perhaps the Leviathan's additive was killing the vampires. After searching the house, they only found one human girl, Emily. She told them that she had been captured by the Alpha and his vamps when she was a young girl and kept prisoner. When she said she might know where the Alpha was, the Winchesters took her with them and Bobby as they set off.
When they finally arrived at their destination, they decided to store Emily in a motel for safekeeping, and they forced Bobby to remain behind with her by locking the flask in the safe. But he soon realized something they didn't know: Emily had double-crossed them and led them to the Alpha. Frantic, Bobby attempted to get the flask out of the safe so he could head out and help the boys. Nothing worked until he was able to possess the body of a maid, grab the flask and split.
Concluded on next page…