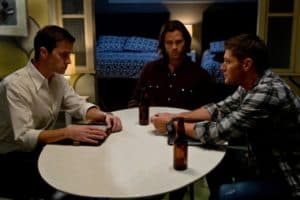 Is it just me, or is Supernatural on a crazy roll lately? Between a fun new mytharc involving the tablets, a cartoon world, Purgatory flashbacks, LARPing, leather pants and, now, an expanded and surprising Winchester mythology, the series has been firing on all cylinders lately. Jeremy Carver, if I ever doubted you (and I don't think I did, but just to be safe…) I apologize.
As Time Goes By…
Let's start at the beginning. 1958, to be exact, in Normal, Illinois. A young John is sleeping when he's accidentally woken by his father, Henry, who tells him that he's off to work for the night. John doesn't know it, but Henry is what's known as a Man of Letters (MoL). As I noted on Twitter, they're essentially the Watchers to a Hunter's Slayer. These people are the keepers of valuable supernatural knowledge and, occasionally, they pass it on to hunters.
But tonight's visit to the MoL clubhouse, as it were, ended in tragedy. A very strong, very old demon named Abbadon possessed a woman who was being initiated into the order. Seeking out a key, Abbadon started killing the MoLs. Henry was handed this "key" (a box with runes on it) and then disappeared into the future with the help of a blood spell to seek his son, John.
But there's no John to be found any longer and Henry's spell has brought him to John's closest living kin: his sons. Sam and Dean were shocked to find a man pop out of his closest, closely followed by the demon that they seemed unable to kill. The three men managed to escape Abbadon but they soon learned Henry's true identity, and he learned theirs.
Like Samuel Campbell before him, Henry was obviously pleased that he had grandsons, but devastated that his own child was dead. Not only that, but he found it hard to connect with Dean and Sam, not only because they were unknown to him (despite being of the same blood), but they were also hunters, a profession that Henry and the other MoLs clearly hold little regard for. Instead, Henry is devastated that John grew up a hunter instead of taking his place in his family's legacy as an MoL.
But there's a demon to be found and killed, if possible. Abbadon is a new sort of demon, called a Knight of Hell. These demons are hand-picked by Lucifer and are sort of similar to Lilith in that they are among the first and strongest of demons. Apparently it took archangels to eradicate them, but it seems like at least one survived. I wonder if any additional Knights will pop up, especially given the "closing the Gates of Hell" quest Sam and Dean are on this season.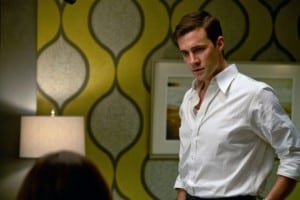 After following a series of clues left behind by one of Henry's former colleagues, the boys split up. Dean went to follow Henry to stop him from returning to 1958 to change history (just in case he changed things so much that Sam and Dean were never born) and Sam went to find the last living MoL. He did and he got a crucial piece of information from this man. Abbadon had been searching for the key which unlocked a sort of "bunker" that held a treasure trove of supernatural knowledge. The MoL told Sam the location of the bunker and instructed him to throw the key in and then forget about its existence because they could not risk this knowledge falling into the hands of demons.
Unfortunately, that MoL got killed by Abbadon, who also kidnapped Sam and demanded a trade with Dean: the key and Henry in exchange for Sam's life. There was, of course, no choice for Dean. He absolutely had to save his brother and he convinced Henry that doing whatever it takes for your family was the right thing to do. Henry ultimately payed the price for his and Dean's clever plan to trap Abbadon and cut her up into a million pieces, never to rise again (hopefully). And after he was dead and buried, Sam clearly had a hankering to find that bunker and access the knowledge. It may be dangerous, but he simply can't pass up the opportunity.
Concluded on next page…