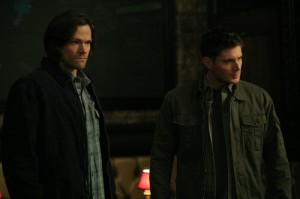 Alright, let's all be honest. Â That wasn't a great episode of Supernatural. Â It wasn't the worst episode, but it wasn't anything memorable. Â The thing about stand-alone episodes is that this show can – and often does – have non-mythology episodes that are stellar and memorable. Â In fact, I did a whole slide-show about stand-alone episodes, so that shows you that Supernatural can do them well.
Then there are the stand-alone episodes that are pure filler, which is sad but understandable.  They can't knock it out of the park every single week.  We've had a run of five really solid and engaging episodes, so  we were kind of due for a more lackluster one.
Because of that, this review will be shorter than my reviews tend to be.  The truth is, there's not that much to discuss, aside from some personal Winchester business we'll get to shortly.  I think my biggest problem with the James story was that, in the end, it all came down to love.  Love is a huge and noble concept in this show, but I just didn't buy it as Spencer's justification to ruin James' life here.  Maybe we just didn't have enough time to get to know Spencer as a character.  Maybe we didn't get to see enough of the whole "soulmate" thing between James and Portia to really believe it.  The trouble with love is that it is such an important motivation and such a tangible thing that it needs time to develop for an audience.  It's difficult, sometimes, to jumpt into the middle of a story and just believe in a love that we didn't see develop.  Or to believe in jealousy as a motivating factor when we don't see enough of a character to understand why he's really jealous.  The guest stars in this week's episode seemed to get a bit more screentime than guest stars usually get and I can understand the need for that in terms of the story, but I still don't think it was enough to really make me believe it. 
Of course, I have to mention the whole bestiality factor.  Technically it's not bestiality for me since I basically thought of her as a woman who also happened to turn into a dog (I was trying to justify it in my head), but I know it's a touchy subject.  In some respects, Dean was the mouthpiece for the audience on this topic, although he was occasionally heavy-handed with the mentions.  We get it, Dean.  We're uncomfortable too.  But it's also an aspect of the story that might have either been unnecessary or just felt like it needed more time to develop so that it wasn't just uncomfortable.  I didn't really understand why they ignored the taboos of their community to engage in a sexual relationship, but that also speaks to the whole love aspect. In the end, despite decent enough performances, I wasn't crazy about the storyline for the episode.  But, you can't win them all, I guess.  I did, however, like the fact that Portia was independent and self-assured.  This story could have gone in a bad direction had she been utterly submissive to her "master", but her spunk and strong personality avoided that unneeded complication.
Of more interest is the fallout from Sam's choice to do the trials. Â Dean is concerned. Â Dean has every right to be concerned, because these types of activities can, and often do, end in death. Â But Sam hit on an interesting point in the episode: it's not that Dean doesn't trust Sam, it's that Dean often doesn't trust anyone but himself. Â This is not a Dean-centric quirk. Â In fact, this is a human trait. Â Are there any among us who hasn't – at one time or another – simply thought "this whole thing would go a lot better if I just did it myself"? Delegation is a difficult thing when you trust your own skills. Â That's not to say you think everyone around you is incapable, it's just that you simply trust yourself more. Â I liked the fact that Sam hit on that point rather than create further brotherly conflict by simply concluding that Dean didn't trust him.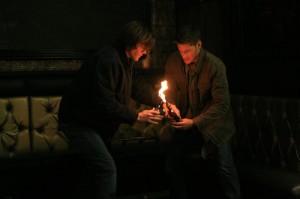 In the end, however, Dean realized that the thing that's gotten them through the miserable experiences in their life is really their ability to stick together.  It's rare that any Winchester accomplishes a monumental task without assistance from someone else (usually their family member or close friend).  This is why I'm rarely bothered by claims that Sam or Dean gets preferential storylines, because I usually assume (based on past storylines) that they're not going to accomplish the end goal without strong assistance. Dean helped Sam wrestle control over Lucifer in "Swan Song" which essentially helped save the world, for example.  And so Dean realized that putting faith in his brother was important.  "If you say you're good, then that's it, I'm with you 100%," he declared.
Unfortunately, Sam isn't good. Â He's suffering some terrible side effects from the trials that are only beginning to manifest themselves (currently in the form of coughing up blood). Â It's clear that God had no intention of making the trials to close the Gates of Hell easy. Â The problem is that Sam has a huge dilemma. He should come clean with Dean, because we know that secrets never, ever, ever end well for this family. But if he tells Dean, then he's probably right to assume that Dean will insist he take on the trials himself (since it's unlikely Dean will insist they simply walk away altogether). Â And, really, what will what accomplish? Â That Dean will cough up blood instead of Sam? Â Would that be any better?
It would be better if Dean could help Sam with the trials and this problem instead of trying to protect him by insisting he do it, but I see the latter as Dean's instinct in this case. Â His instinct is to protect and to take on the big problems himself. Â It's a big brother trait, especially for Dean who is a protector at heart. Â I can see that Sam really has no choice but to keep this a secret even though he – and we – know this is surely going to come back to bite him in the future and it's just going to make things worse. Â It's an impossible position to be in and I wouldn't envy Sam the inevitable fallout from this when Dean finds out.
The biggest and most obvious problem is not only the side effects, but the potential mistrust that might stem from Dean if Sam becomes visibly worse and still refuses to tell the truth. Â The probability for brotherly conflict grows higher in that case, although this is the kind of conflict we are familiar with. Â That's not to say it's good – because it's not – but it's familiar, and, frankly, it will hopefully result in more concern than actual conflict. Â Although the concern could quickly become conflict if Sam continues to keep it a secret, so here's hoping that he's forced to be honest (or chooses to do so because it's the right choice) sooner rather than later.
Next week's Supernatural Greek god episode looks quite interesting (watch a preview). Â It's possible that, given the subject matter, next week's stand-alone episode can best the one we were treated to this week. Â I suspect it will be easier for the audience (or, at least, for me) to relate to the gods because they're more familiar concepts and characters.
Visit our Supernatural page for sneak peeks, spoilers, photos and more.