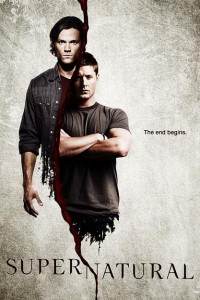 Ok, I give up. I have absolutely no idea what the heck is going to happen in season 6 of Supernatural. Now that the newest casting spoilers have been making the rounds, I am officially ceasing to even speculate what's in store for the Winchester brothers next season and can only hope that Comic Con (the Supernatural panel will take place on Sunday, July 25) will shed some light on what to expect in September.
Before moving onto the new spoilers, let's recap. We already know the show intends to return to its more monster-of-the-week roots, but still with a season-long story arc. We already know that Sam will pull Dean out of his "normal life" and back into a life of hunting. We already know that Grandpa Campbell (having, you know, DIED back in the 1970s) will somehow become a recurring characteron the show next season (as Mitch Pileggi has been cast as a recurring character). The return of Grandpa Campbell alone confuses me, because I have no idea whether that will occur because of time travel or resurrection.
Now we have news of more new and returning characters. Firstly, we already know that Bobby and Cas will both be returning in season 6. We've also been told that we should expect to see Mark Sheppard return as Crowley. According to Supernatural Locations, Crowley was photographed on the set for the fourth episode of season 6.
Remember Kim Rhodes who played Sheriff Jody Mills back in the last Bobby-centric episode in season 5 ("Dead Men Don't Wear Plaid")? According to zap2it, she'll make a return appearance in the fourth episode, which is entitled "Weekend at Bobby's" and is the one directed by Jensen Ackles.
zap2it also reports that Jennifer Aspen (also known as Terri's sister on Glee) will be making an appearance in the same Bobby-centric episode. Want to see an on-set photo of Jennifer? Click here. Apparently things at Bobby's house won't be going so smoothly if her appearance is any indication.
Don't expect that Grandpa Campbell is the only family member you'll see in season 6. No, I'm not talking about Adam, the Winchesters' half-brother (although who knows whether he'll get out of Hell like Sam did). I'm actually talking about another member of the Campbell family. According to reports at Gate Con, Corin Nemec (formerly of SG1) will be playing the recurring role of Christian Campbell, the boys' maternal cousin. This one is a bit easier to figure out than Grandpa Campbell, despite the fact that we never saw Mary's siblings. We did, however, learn back in early season 2 that the boys had an uncle they never met who had paid for Mary's gravestone (I think this was mentioned in "Children Shouldn't Play With Dead Things"). So it makes sense that Mary had a brother, who then went on to have a son, Christian, and got him into hunting.
But here's the kicker – the final casting spoiler I have for you today from zap2it is regarding Fredric Lehne, who happened to portray the Yellow-Eyed Demon (Azazel). Lehne will return in season 6 as Azazel.
So you see why I'm giving up trying to figure out what's going on? The return of two dead characters – Azazel and Grandpa Campbell – plus the introduction of more family members for the boys? Someone, please tell me what's going on! And does this mean that we could – hopefully – see the return of Jeffrey Dean Morgan as Papa Winchester? Because that would be so awesome, especially if this is the final season of Supernatural. It's not like the writers can't figure out a way to bring him back from the dead or make him appear again. It seems like they're resurrecting everyone in season 6.
Oh, and check out that awesome new season 6 poster above.