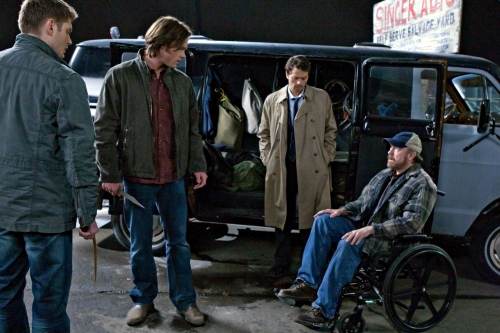 Last week the CW revealed the basic plot for season 6 of Supernatural during its Upfronts and the question on everyone's minds was whether Castiel and Bobby would be returning. Before the finale aired, I'm sure a lot of were worried that either Bobby or Cas (or both) would end up dying, resulting in a huge blow to the already meager number of supporting characters left on the show. Fortunately, both were resurrected in the finale (Castiel by God and Bobby by Cas). According to Chuck (God?), it would be a long time before Dean and Bobby saw each other again, so I'm sure that many people were wondering whether Jim Beaver (who plays Bobby) would be returning in season 6 of the show. The same goes for Mischa Collins, as Castiel presumably returned to Heaven to see if he could restore some order to the chaos there after Michael's disappearance.
Mischa Collins was listed on the official press release for season 6 as a cast member, but now Zap2it is reporting that both Jim Beaver and Mischa Collins will be returning for the sixth season.
In terms of speculation, from the CW spoilers we know that Sam will pull Dean back into a life of hunting to deal with the fallout of the apocalypse and the battle between Heaven and Hell, so it makes sense that Castiel will be back to helping the boys, especially if he's going to take some sort of leadership role in Heaven. And I'm happy to know that the boys will be reaching out to their surrogate father, Bobby, for help.
I'd like to know whether we're going to see the return of any other supporting characters as the demon activity ramps up. Most of them are dead (like Ash, Ellen, Jo and Pamela), but there's still a few who are alive and kicking – Rufus, for example.
Email: clarissa @ tvovermind.com
Follow: twitter.com/clarissa373