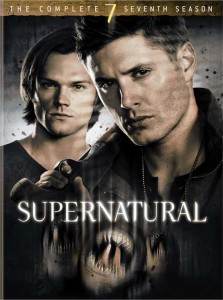 The seventh season of Supernatural put the Winchester brothers in a terribly lonely place. After losing their good friend and ally Castiel at the beginning of the season, the writers systematically stripped away many things that they loved, including Bobby's house, their beloved Impala, and then Bobby himself. Although both Castiel and Bobby returned towards the end of the season, it's clear that Team Free Will isn't what it once was. Not to mention the fact that they spent the season dealing with flesh-eating monsters called Leviathans.
The Supernatural season 7 DVD and Blu-ray box sets will be released on September 18, 2012.
The box sets will include: "All 23 episodes, plus bonus material to include Featurettes, Commentaries, Deleted Scenes, a Gag Reel, and more! Exclusive to the Blu edition is an additional Featurette, and UltraViolet digital downloads of the episodes (available only in the USA, not in Canada, and must be redeemed within two years of street date)."
Want to pre-order your copy on Amazon? Click here: DVD
and Blu-ray
.
Supernatural will return for its eighth season in the fall. For more on The CW's 2012-2013 season, which includes Supernatural moving to Wednesday nights after the new superhero drama Arrow, click here.
We'll be at Comic-Con again this year, hunting down as many spoilers as we can. Until then, make sure to bookmark and check our Supernatural page, which will always be updated as new information, trailers and photos trickle in.