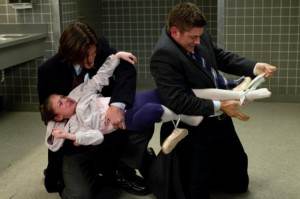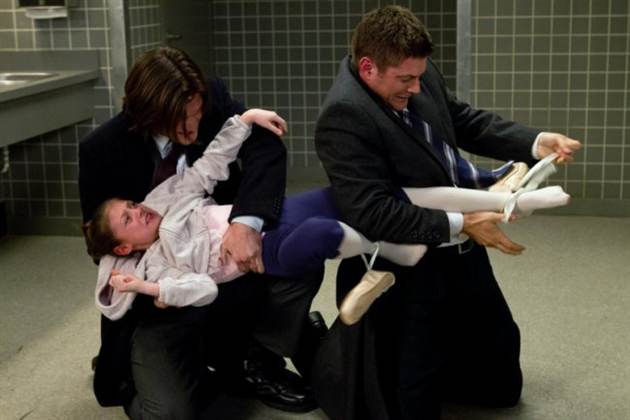 To be quite honest, I'm not entirely sure what to make of the ending to this week's Supernatural. After returning from a multi-week hiatus, the Winchesters started investigating what looked like a normal case (well, normal for them), which actually turned out to be leviathan-related. At the end of the episode, the Winchesters got some intel on Dick Roman's plan. Or, maybe they didn't. But if they did, then it doesn't necessarily make a lot of sense. Or does it? So confused. Let's start at the beginning.
Toe Shoes Full of Crazy
Sam has been suffering from severe lack of sleep since the last episode of Supernatural. Now that he has engaged with Lucifer, the devil refuses to give him any moment of rest and, subsequently, Sam is afraid to close his eyes. He's been honest with Dean about his situation, but Dean doesn't really seem to understand how serious it is, despite continuously insisting that Sam try and get some sleep. Instead of doing that, Sam suggests they investigate a case where it looks like a dancer literally danced her feet off (she really did…and it was very disturbing).
A quick trip to the police station – and a quick look at the crime scene photos – led the Winchesters to believe that something was strange with the dancer's ballet slippers. They quickly tracked them to the bathroom, where a young girl was trying them on and nearly getting killed in the process. While trying to save her, Dean got kicked in the face multiple times for his trouble and also happened to touch the shoes. They both quickly realized they were dealing with a cursed object and tracked it to its source: an antique store.
Unfortunately, the owner of the antique store revealed that the shoes has originally belonged to his mother and they, like a variety of other objects that used to reside in boxes covered with various protection symbols, had been sold to a variety of people. Frustrated, the boys headed out to track down the other cursed objects. They were too late to save one woman, but managed to retrieve two other objects before they did damage.
What Does a Real Estate Agent and a Leviathan Have in Common?
But the curse objects weren't really the focus. Much like a previous episode of Supernatural – "How to Win Friends and Influence Monsters" – the case of the week actually led the boys straight to the leviathans. While investigating the cursed objects, Dean quickly realized that something suspicious was going on in the town, something involving a real estate agency that seemed to be buying up an awful lot of property in a centralized area. Dean contacted Frank, who had been in touch with him throughout the episode, still searching for information on Dick Roman. Frank quickly discovered that the real estate agency was actually a subsidiary of Roman's company.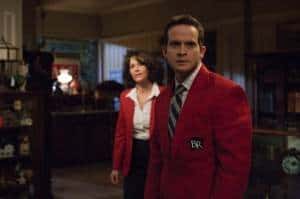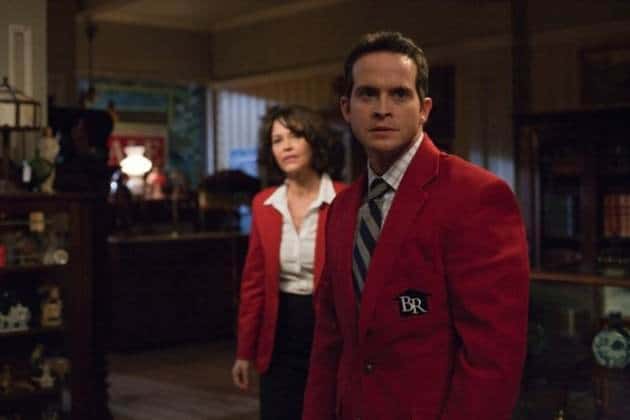 While Dean was putting all of this together, Sam was driving to meet him, and suffering from his lack of sleep. Falling asleep behind the wheel, he nearly crashed into a truck, but narrowly avoided disaster at the last minute. He stopped for coffee and who should happen to be at the same coffee shop at the same time? The real estate lady's (Joyce) hopeless assistant, George. He recognized the Winchester and returned to his boss with the good news that they could settle in to eat the trouble-making brothers..
The leviathans had the antique store owner call up the Winchesters for a fake emergency and the brothers rushed right over. Quickly realizing it was a set-up, they fought with the leviathans. Fortunately, George wanted Joyce dead more than he wanted to kill the Winchesters, so he quickly told Sam how to go about decapitating Joyce. Once that was done – and the antique store owner had set off for a new life sans-leviathan – George said that he helped the boys for the opportunity to eat his horrible boss. But the brothers were far more interested in getting information on Dick Roman than making nice with the one leviathan who had (momentarily) helped them.
Concluded on next page…