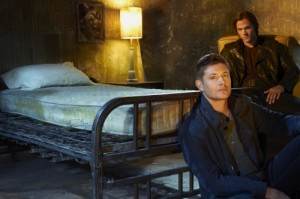 I'm not going to lie, the new promotional posters for season 7 of Supernatural haven't been knocking my socks off, primarily since they look like a repackaging of the season 6 promotional photos. Then I saw some new photos released by The CW and I had to re-evaluate my position.
These shots seem to continue the theme from last season of the Supernatural boys being in a dirty old motel room/abandoned shack. You remember those scenes that aired before and after commercials last season, right? Of course you do. Well, the guys are still trapped inside that dusty old room, looking remarkably hot while being surrounded by broken glass, rusty bedsprings and salt lines on the floor.
To view the five new promotional photos for season 7, click the arrows above. Supernatural's seventh season returns this week on Friday, September 23. Are you excited for it? We've got a few goodies to help tide you over until Friday: watch a sneak peek and a trailer for the new season and browse through photos for episode 7.01 and episode 7.02.
Update: rumor has it the photos may be from season 6 and weren't released until now, which may actually explain why they look so similar to those scenes from last season. But you don't really care about that, right? We all just want to stare at the photos.