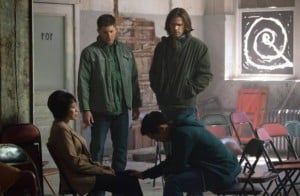 Supernatural's eighth season has just begun, but there seems to be a lot of excitement floating around the internet for the Winchesters' reunion, the season 8 story arc and the newest characters to be added to the show.  Last week's season premiere gave the boys a new mission (find the word of God) and a few new allies (Kevin in the backseat of the Impala and vampire Benny – who may or may not have very evil intentions).  Because the Winchesters are good hunters, they immediately set out with Kevin to find the new Word of God tablet in this week's episode.  Of course, they get derailed by a few things.  One is Kevin's mother, Ms. Tran.
Understandably worried about his mother now that Crowley seems determined to retrieve Kevin at all costs, the young prophet asks Sam and Dean to look in on his mother.  She's being watched by demons, but the brothers do reunite her with her son and then the four set off to find the tablet.  But Ms. Tran's presence as a "fourth wheel" in the Impala is going to make for quite a unique situation for the Winchesters, as Jared Padalecki told us during our recent trip to the Vancouver set of Supernatural*.
Jared mentioned that "What's Up, Tiger Mommy" is "One of [his] favorite episodes.  Kevin understandably, much like Dean and Sam were, is worried about his mother.  And while Dean is very much like 'hey, forget about it, we have some work to do, I'm sure she's fine', Kevin is resolute and saying 'I gotta check on her'.  So we go to check on her and find out, indeed, she's been kinda compromised and we have to save her before we get to try and regain possession of the tablet.  It's a fun episode.  It puts Dean and Sam in some funny situations where they're these two guys who have kind of been a sovereign entity.  We've had Bobby and we've had Cas and we've had some of the Roadhouse hunters.  But there's a 'Tiger Mommy' forced on us so we find ourselves in a kind of situation where we're like 'we don't want to buckle our seat belts and we don't want to chill out, just let us do what we were doing'."
As the group heads off to find the tablet, they learn that it's actually up for auction, putting the brothers in a situation where they have to figure out a way to buy a high-priced item when they rarely have two cents to their name (although they do seem to be able to afford hair products for Sam's ever-growing mane, don't they?).  This will be a very unfamiliar situation for them, compounded by the presence of some gods, as Jared explained: "[this episode is where] we deal with a god – where we deal with Plutus.  We find ourselves in a situation where we're heavily outgunned, heavily out-numbered.  We basically have our wits about us and that's it.  We're dealing with gods and monsters and people who have infinite wealth and so we kind of have nothing to use but our wits and our imagination."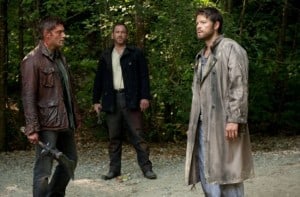 The search for the tablet is what's happening topside and in the present, but it's the flashbacks that many fans might be eager to see, because this episode's flashbacks to Purgatory will finally reveal Castiel, who was missing from the Supernatural season premiere.  In an already-published interview, Misha teased that Purgatory "is a kind of penance, which actually plays out a little bit as the season unfolds".  In the premiere, we saw Dean interrogating monsters in Purgatory about Castiel's whereabouts.  But based on photos for this episode, we know that he does reunite with Castiel, who also happens to meet Dean's new vampire BFF, Benny.  How will Castiel feel about the burgeoning friendship between Dean and Benny?  Not good, Misha hinted: "[Castiel's] wary of Benny from the get-go and I think that he then is possibly a bit jealous too of the sort of friendship or camaraderie that happens between Dean and Benny, I think. You know, Cas doesn't have a lot of other friends in Purgatory."
Of course, one of the big questions coming out of the season 7 finale – and reinforced by Dean's search for Castiel in Purgatory – is 'why are the two separated in there?'  What happened to Castiel that made him disappear at the end of the finale?  Well, I can't spoil it, but I can tell you that there is a reason that Castiel disappeared and we'll learn absolutely more about it soon.  Remember, Misha warned that episode 8.07 in particular would be a big Castiel episode, so expect to learn more about him soon.
Watch a portion of our interviews with Jared and Misha below and tune in to an all new episode of Supernatural on October 10 at 9:00 p.m. ET/PT on The CW.  Check out a preview and sneak peek for the episode on our Supernatural page.  And while much of Misha's interview is secret and spoilery, I was able to piece together some outtakes that fans should enjoy.  If you haven't already seen it, watch it here.
*Travel and accommodation provided by Warner Bros. Television.
[FLOWPLAYER=http://www.tvovermind.com/wp-content/uploads/2012/10/spn-802-copy.jpg|http://www.tvovermind.com/wp-content/uploads/2012/10/spn-802-Clip1.flv,440,280]