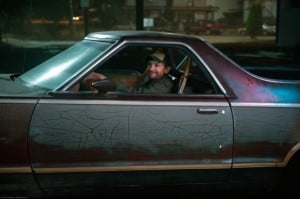 Remember Bobby (*sob*)?  I find that as I watch the eighth season of Supernatural I miss him more and more.  Some fans are happy that the Winchesters are forced to do a lot of the investigative ground work on their own and while I agree that's a good thing, I do miss the old coot who used to help them.
Well guess what?  Dean misses him too.  So much so that when he finds out someone has taken over Bobby's role in the hunting community, he's not too happy about it.  Even when that someone is none other than Garth, who seems to have adopted Bobby's dressing style and hats….sacrilege!  In "Southern Comfort", the Winchester brothers come across Garth while investigating a murder.  When Dean is unhappy that Garth has become the new Bobby, Garth rightly points out that they both dropped out of the hunting game for a year and someone had to do it.  The trio then sets out to hunt an avenging ghost before it can strike again.
After this episode we'll be jumping back into the mythology again.  Episode 8.07 will focus a lot on Purgatory and Castiel.
Use the arrows above to browse through photos for the November 7 episode of Supernatural.  Visit our Supernatural page for more sneak peeks, reviews, photos and spoilers for season 8.