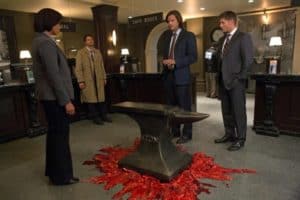 Supernatural is stepping out of the box once again.  The show has done "found footage" episodes, episodes in alternate dimensions and meta episodes, but they've never really done an episode set inside a cartoon universe.
Well, that's about to change, because at the end of November we're going to see "Hunteri Heroici".  Now that he's back from Purgatory, Castiel has found a new mission in life: to become a hunter like the Winchesters.  Sam and Dean are skeptical about the angel's new career choice, but Castiel finds a strange case involving a man's heart that literally burst out of his chest and off the trio goes.
They soon realize that the small town isn't like any other, because a lot of the deaths there resemble cartoon deaths.  And they also find an old Winchester family friend who seems to be trapped inside his own head that actually looks like a cartoon, prompting Castiel to jump inside his head with Sam to figure out how to save him.
We also happened to visit the set while they were filming this episode, so stay tuned for interviews from Jensen Ackles, Jared Padalecki and Misha Collins about filming this unique episode.  From what we saw, the actors themselves weren't animated.  It was more of a "Who Framed Roger Rabbit?" style of an episode where the normal-looking actors were surrounded by a cartoon world, especially when they traveled into the head of the guest star.
Keep an eye on our Supernatural page for more season 8 details, spoilers, previews and reviews.