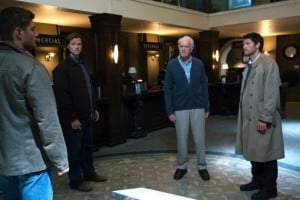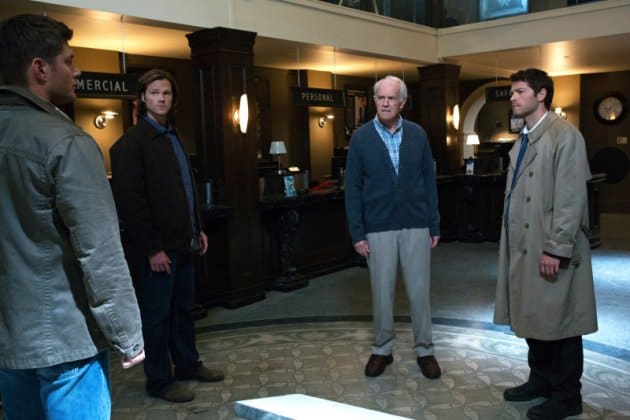 The last time that Supernatural jumped into the television world was in the fifth season and we were gifted with the hilarious episode "Changing Channels" (written by new showrunner Jeremy Carver).
The upcoming episode will meld television with reality, giving us cartoon elements in the everyday world.  The set-up is simple: Castiel announces that he wants to be a hunter like Sam and Dean, but while the brothers remain skeptical (watch a preview).  To prove his dedication, Cas tracks down a case that leads the Winchesters to a small town where the deaths heavily resemble those found in cartoon shows and movies.  Think falling anvils.  In fact, see falling anvils in these promo photos for the episode.
During a visit to the Supernatural set in Vancouver*, we were able to watch the cast film a scene for "Hunteri Heroici" (penned by Andrew Dabb), which features M*A*S*H actor Michael Farrell as a guest star.  Stars Jensen Ackles, Jared Padalecki and Misha Collins were on hand to tease the episode.
Jensen began by telling us that this would be another unusual episode in the style of "Changing Channels": "If you take episodes like Changing Channels or French Mistake, where we go so outside the box, but yet we always somehow find a way to make it make sense.  This is kind of one of those off-the-wall episodes.  It's not something we've ever done before.  When I heard the concept I was like "really?!"  But I've gotten that reaction several times in the show and it's always worked out."
Jared gave us a few more hints about the actual case of the week, explaing that "It's kind of a very Looney Tuney, cartooney series of deaths that get us involved.  We go and find out there's an ex-hunter that might be involved, but we don't know if he's hunting and staking it out."
Read our theories and speculation on the mysteries of season 8
The scene we watched the actors filming featured Castiel bringing Sam inside the mind of Fred Jones (played by Michael Farrell).  Fred's mind resembled a cartoon, which meant that Jared and Misha were acting against a pure green screen background.  "The part that you saw on the green screen itself was we're inside the mind of this Mr. Fred Jones character who was a hunter long, long ago I think and now he sort of lost his mind and he lives in a fantasyland of cartoons and I transport us into his mind and then we get to work on green screen," Misha explained.  On the monitors during filming, we could see a cartoon world surrounding a normal-looking Castiel and Sam (completely with a little cowboy and a bomb exploding in the distance).  Then Fred appeared and the world around all of them turned to static as the trio conversed and Sam tried to convince Fred about the benefits of reality.
Watch the video below featuring interviews with Jensen, Jared and Misha and don't miss an all new episode of Supernatural on November 28th at 9:00 p.m. ET/PT on The CW (Note: sorry about the shaky Jensen portion – I have very unsteady hands!)
Keep an eye on our Supernatural page for spoilers, previews, sneak peeks and reviews.
*Travel and accomodation provided by Warner Bros. Television
[FLOWPLAYER=http://www.tvovermind.com/wp-content/uploads/2012/11/spn-pre-808.jpg|http://www.tvovermind.com/wp-content/uploads/2012/11/spn-pre808-Clip1.flv,440,280]