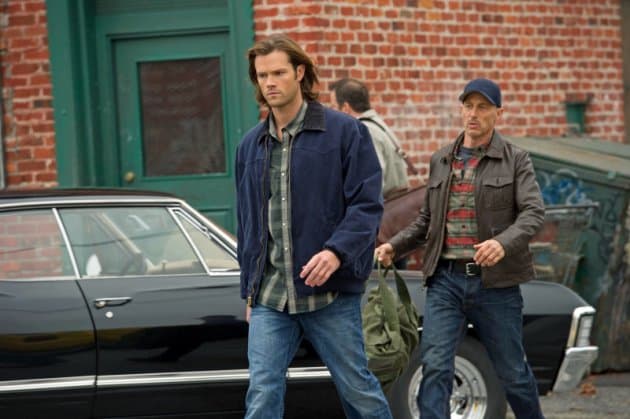 The Benny / Sam issue will come to a head in what might be the pentultimate or final Supernatural episode of 2012.  Benny returns in "Citizen Fang" at the beginning of December and Sam is still extremely suspicious of the vampire.
Sam calls on the old Winchester family friend/fellow hunter Martin (who apepared in the asylum in the season 5 episode "Sam, Interrupted") and asks him to keep an eye on Benny.  Naturally, Dean isn't told that his vampire BFF is being tracked.  But Sam can't keep it a secret for very long because Martin tells Sam that he thinks Benny is responsible for a recent kill and  Dean immediately steps up to defend his friend.  Upset about Dean's reluctance to do "the right thing" about Benny, Martin decides to try and kill the vampire himself, leading Dean to make a tough decision.  Will he side with his brother against Benny or will he hold fast about his insistence that Benny is to be trusted?  What will the evidence reveal about the vampire?
It's so nice to see another hunter in the Supernatural universe.  I've always lamented the fact that we don't see nearly enough of the hunting community in the show (considering the fact that the main characters are, you know, hunters), so it's fun to see an old guest star make a reappearance.  And it's nice to know that Sam and Dean have contacts out there that go beyond the regular guest stars like Bobby, Garth and Sheriff Mills.
Keep an eye on our Supernatural page for spoilers, photos, sneak peeks and reviews for season 8.