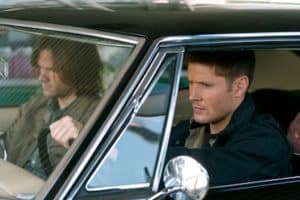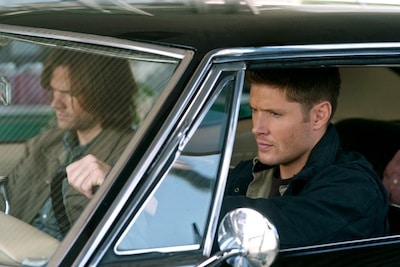 Supernatural is back! And I don't just mean that in the sense that new episodes have returned. I mean that in the sense that the original spirit of the show seems to have returned. I don't want to disparage the work of Sera Gamble over the last two seasons because there have been some stellar standout episodes in seasons 6 and 7, but I think the return of Jeremy Carver has given the show with a fresh breath of air. The fact that we all knew about his new job as showrunner – and his standout episodes in the past – have fans excited for the show in a way that may have been missing in previous years. There's an important correlation between fans' excitement and the quality of the show that cannot be understated. If you have both quality and excitement, you're going to end up with one hell of a series.
"We Need to Talk About Kevin" wasn't my absolute favorite season premiere like "Lazarus Rising" or "In My Time of Dying", but it is now #3 on my list of season premieres. In some respects it felt more like a gentle prelude to a bigger story, but there's absolutely nothing wrong with that. Because this is a story that I'm very interested to see play out.
Reunited. But Does it Feel So Good?
When the episode opened we had jumped ahead a year to find Dean escaping from Purgatory. Stealing a backpack from a camping couple he made eventually tracked down his brother and the pair reunited at Rufus' cabin. Sam joyfully greeted his brother, but that joy was short-lived when Dean got on his case for giving up hunting. Sam was honest about his new lifestyle choice, but all Dean could hear was the fact that Sam gave up the family business. Even more than that, Dean was furious when he learned that Sam didn't look for him. But Sam was insistent that he had no road map to find Dean. Like Crowley and Jeremy Carver said, he was all alone, with no leads. And why would he want to continue with the very job that was responsible for the destruction of his entire family? Dean was petulant, but the brothers remained together, particularly when Dean came across several messages from Kevin Tran who had been attempting to contact Sam for the last year.
Prophet Power
The boys eventually tracked Kevin down in Iowa and we got a glimpse into the past year of his life. Crowley wanted him to decode a special tablet, but Kevin managed to turn the tables on him, destroying his demon bodyguards and escaping. Then he gives the Winchesters some news: he knows about a tablet from God that can close the Gates to Hell forever. Crowley came calling once again, even using Kevin's old girlfriend as a bargaining chip, but the trio eventually escaped and headed off on a new mission to retrieve the tablet before Crowley does.
New Friends
Before Dean reunited with his brother at the beginning of the episode, he went on a little side mission to dig up a grave and resurrect someone. Who? Why, Benny the vampire, Dean's new BFF from Purgatory. Through flashbacks to Purgatory we learn that Benny sought out Dean because he was human, and only humans can escape that dimension. But the boys spent some time killing together and now they're all buddy-buddy. They've gone their separate ways though, and while Dean is off seeking God tablets and trying to get his brother back into hunting, Benny may or may not be chowing down at a funeral. Whatever he's up to, he and Dean have agreed to some sort of a plan that Benny is supposed to follow.
Sam, meanwhile, snuck out of the house he shares with his vet girlfriend Amelia before joining his brother. And when Dean asked whether he gave up the hunting life for a girl, Sam clearly downplayed her importance in his life, preferring to keep their relationship to himself.
Continued on next page…