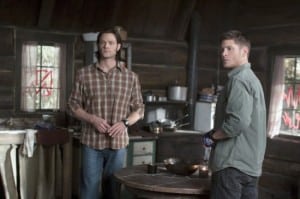 I don't know about the rest of you Supernatural fans, but I'm very excited about the upcoming eighth season.  Season 7 ended with the Winchester brothers in a familar, and separated, state.  Sam was left back on earth all alone after his brother, Castiel and Kevin had disappeared (and after Bobby's ghost had – presumably – moved on).  Meanwhile, Dean and Castiel were trapped in Purgatory after having killed Dick Roman (or, more specifically, the final seconds had Dean all alone in Purgatory after Castiel disappeared).
When Supernatural returns in early October, the Winchesters will be reunited quickly.  Time will have passed while they were apart, but we'll learn what they were up to through the use of flashbacks over several episodes.  Sam got out of the hunting life and settled down with a girlfriend, while Dean managed to not only survive Purgatory, but escaped with the help of a new vampire frenemy that he doesn't want to tell Sam about.  We know from the Comic-Con panel that the Winchesters will be up against Crowley and other enemies for possession of an artifact this season, as well as dealing with monsters-of-the-week.  We know that Kevin the prophet will play a part in next season's mythology, but we don't yet know whether Castiel makes it out of Purgatory alive.
The CW has released the first season 8 preview for the show, which you can watch below.  Expanding on the Comic-Con teasers, we now know exactly what the Winchesters will be searching for: another Word of God that, according to Kevin, contains instructions on closing the door to Hell forever.  As in…no more demons!  No wonder Crowley will also be desperate to track down this information.
Updated: Go check out our thoughts on whether the Winchesters can find the tablet…and whether we think they should.
By the way, I am seriously into Sam's hair in this trailer.  Smaller sideburns!  Little flip at the ends!  It looks so much better than his season 7 hair.  Am I right?
For more spoilers on season 8, read our Comic-Con press room coverage and keep an eye on our Supernatural page for spoilers, previews, photos and recaps for the show.  The new season begins on October 3 on The CW.