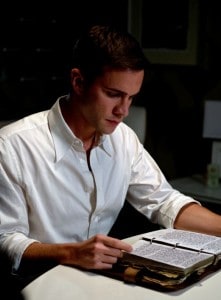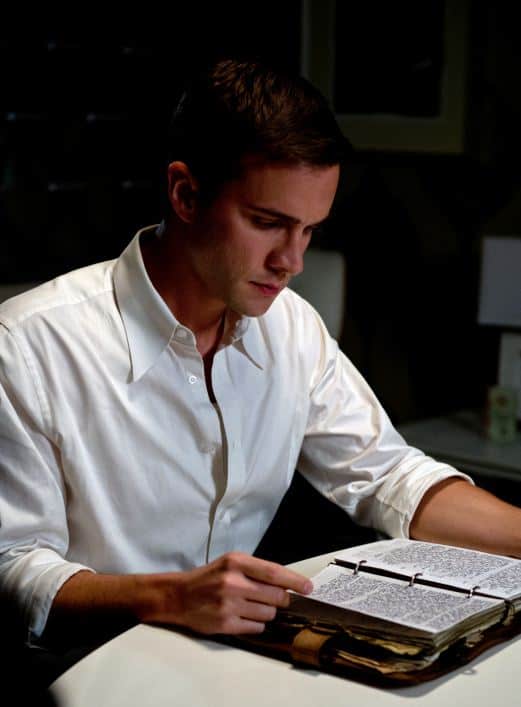 Tonight's all new Supernatural introduces fans not only to John's father, Henry Winchester, but to another important piece of the Winchester family mythology. After a screening of the episode, executive producer Robert Singer participated in a Q&A that teased tonight's episode and a few things that are coming – and coming back – this season.
[Mild spoilers ahead]
Deciding to Explore the Winchester History. "John's a product of the fact that he didn't have a father growing up. [That's] the first of many kinds of bad luck for him. He sort of held a grudge against his father because he felt his father deserted him. We wanted to do [this episode] because we spent time with the other side of the family [the Campbells in season 6] and just kind of bring the thing full circle. And I don't know if you remember the cupid episode where they said 'it was ordained that [Mary and John] should get together' and now [we'll learn why]." Does that mean we might see other Winchesters popping up? Well, there's no plan at the moment, according to Singer. But you never know what might happen in the future.
How Do the Brothers React? Singer brought up a difference between Sam and Dean in the way they relate to their father which has bearing on how they both react to Henry: "Dean had a probably more complicated relationship than Sam did with John. It was pretty clear to Sam early on that [he wanted to get out and go to college and that didn't really work out after all], but I think he had kind of a clearer mindset. Dean, I think, was more conflicted about his dad and it's been pretty consistent throughout the show that Dean has always been in defense of [John] and John made the ultimate sacrifice for Dean. So I think he takes this [Henry and familial] stuff a little more personally than Sam does and that's what you'll see in this episode."
Casting Gil McKinney. The producers wanted to have a bit of a contrast between Sam and Dean and their grandfather. "[Gil] came in and read and we just thought that he was the right guy for the part." They weren't really looking for physical similarities in casting Henry's part. "It's sort of a generation removed. We were just looking for the best actor and the guy we thought would work well for the boys. And there's a bit of a contrast, [Henry] is a guy who is more elegant and more learned and more educated, while our boys are rough-hewn. We were actually looking for more of a contrast than a familial…sameness."
Read more spoilers from Singer about what will happen with the knowledge Sam and Dean get from Henry.
The Return of the Prophet. Singer confirmed the return of Kevin, which isn't really a surprise since we've seen photos of him in an upcoming episode after he has a breakthrough with one of the tablets, but he also confirmed the return of some other characters, including…
Castiel's Importance. We last saw Castiel summoned back to heaven by Naomi, but fans can rest assured that he will return. "He's really crucial to the tablet stories. He's going through sort of a trial of his own that's personal. Naomi is very unhappy with him, Crowley is very unhappy with him. He's a confused angel right now."
Benny's Reappearance. Despite Dean cutting ties with the vampire who helped him escape Purgatory, we haven't seen the last of Benny. "He was really fighting the good fight of trying not to give in to his bloodlust and I think Dean having to basically cut the tie is a hard thing for him. We didn't feel that, and never felt that, that story was totally ended. [It's] probably not great drama to end the whole arc on a phone call." Singer also made a point to say that "Pretty much every season we like to bring the season full circle and get a lot of questions answered for that season but pose questions for whatever the next season is going to be. I think all of these people that we introduced will have a pay-off." That would apply to Benny and to a few other characters.
Charlie Redux.  Singer confirmed that Felicia Day will reprise her role of Charlie Bradbury (last seen in the amusing "LARP and the Real Girl") again this season.  "We love Felicia.  We know she's going to be in [an upcoming episode].  We're just breaking this story now.  I know that she basically brings them a case, but beyond that I can't tell you a whole lot."
Will Amelia be Back?  The door seemed to close on the Sam and Amelia romance when Sam chose not to return to her when Supernatural returned this January, but does that mean we'll never see the vet again?  Well, maybe/maybe not, according to Singer.  He did say that "We think she's a really valuable character, we like her a lot and it certainly creates a big complication in Sam's life.  We're just kind of doing the end of the season now in the [writers'] room and I know that we've talked about bringing her back, but we don't have anything specific."
More Tablets? When the existence of an Angel Tablet was confirmed in the January premiere, quite a few fans wondered if any other tablets might pop up this season. Singer said "not this year. Pretty much [we have the Demon Tablet, the Angel Tablet and the Leviathan Tablet already]. That's about all the tablets we can handle [for now]." That doesn't mean we won't see something in the future, though.
The Brothers' Relationship. Despite the boys having a few hurdles to overcome in the first half of the season, they seem to have achieved a sense of harmony with each other now. Will it last? Singer said that "I don't think [their relationship] is shaky, I think what you'll see happen in subsequent episodes is that there's another kind of conflict between them, but it's not necessarily the kind of conflict of 'do I want to do this?' or 'what's my plans beyond closing the gates of Hell?' or any of that. It's a new conflict. I won't tell you more than that, but, as always, there's always something going on between them." Despite this, the "conflict" doesn't sound like something that will split up the brothers. In fact, Singer noted that "I think you can count on a big emotional talk. Without giving it away, [they'll likely have this talk] for kind of a different reason, for something that they didn't see coming. Starting next week that thing will carry through to the end of the year."
Season 9? When asked whether he think Supernatural will continue past this season Singer acknowledged that "I've been around this long enough that you never feel confident about anything. I think we've done really well this year, I think creatively it's been really good and, by and large, the network is happy with our numbers. If I was a betting man, I'd bet that we'd be back." But will the end of season 8 be a cliffhanger? "I'm sure [it] will. It's worked for 7 years," Singer laughed. "There's an old show business saying 'always leave them wanting more' and I think for 8+ seasons we've done that so I suspect there will be some hanging chad [at the end of season 8]."
Don't miss an all new episode of Supernatural tonight at 9:00 p.m. ET/PT on The CW and come back after the episode for more teasers from Singer about what's next.
You can watch the first meeting between Henry and the brothers here and visit our Supernatural page for more about the episode and season 8.