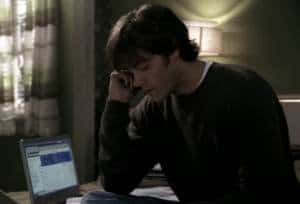 Oh, Sammy. The poor guy gets a bum rap on Supernatural sometimes. First we learn that he's supposed to go evil as one of Azazel's special children, then he's Lucifer's vessel, then he has to go to Hell to save the world, then he gets pulled out of Hell soulless and now he's going crazy after remembering Hell. In other words, Sam Winchester can't catch a break. And, sure, he occasionally acts like a total jerk towards his brother, and God knows he's not as pretty a crier, but he doesn't deserve everything that's happened to him.
Tonight's episode of Supernatural is a Sam-centric one that will delve into his past as a teenager. In honor of this special episode, I've decided to put together my favorite Sam Winchester moments. I'm a self-admitted DeanGirl, but I've been known to be partial to Sam from time to time.
The best Sam Winchester scenes, in my opinion, are both funny and sad. Sure, Jensen Ackles is perfection at physical comedy, but when you give Jared Padalecki a funny scene, he can nail it too. And while we've admitted Padalecki is not a pretty crier, he certainly tugs at my heartstrings from time to time.
To view the best Sam Winchester scenes, click the arrows above. Did we miss your favorite scene? Let us know in the comments below.
Don't miss an all new episode of Supernatural tonight on The CW. And read what Jensen Ackles and Jared Padalecki told us about season 7 on our recent visit to the set.