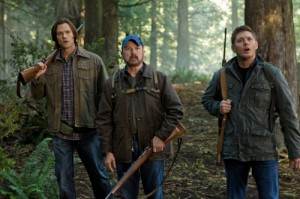 It seems the Supernatural fandom is most in agreement that we're all going to consider last week's less-than-stellar "Season 7, Time for a Wedding" a hiccup in an otherwise solid season 7. Becky returned and love potioned Sam into marrying her, but the whole ordeal is now over and Sam and Dean are back together again. Granted, they're still not back in the Impala, but we're hoping the beloved car will make a reappearance soon enough.
Let's look ahead to the November 18th Supernatural, entitled "How to Win Friends and Influence Monsters". The episode, written by fan favorite Ben Edlund and directed by Guy Bee, features Sam and Dean teaming up with Bobby to head to New Jersey. When a creature in the woods is killing hikers and campers, the boys head out to investigate. This time it's not a Windigo like in season 1. The locals are calling this creature the Jersey Devil. But will the boys be able to kill the vicious creature? Biggerson's restaurant also makes a reappearance when Dean is thrilled to find one in town. But he's extremely depressed to learn that the restaurant's special sandwich might be making the townspeople crazy.
A sneak peek for this week's Supernatural shows Sam and Dean reminiscing about Bobby teaching them hunting when they were younger. We've known since season 1 that Bobby was clearly a presence in the boys' lives while they were growing up, but they don't really talk about how much of a surrogate father he was to the younger versions of the Winchester brothers. Apparently John used to drop off the boys before going on a hunt and Bobby taught them a lot of skills himself.
Watch a sneak peek for episode 7.09 of Supernatural below. You can also watch a trailer here and browse through episode photos here.