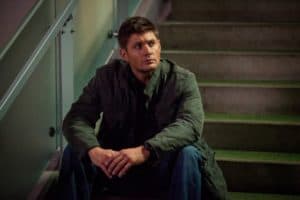 Sam and Dean's meeting with their paternal grandfather in this week's Supernatural not only shed some light on a previously unknown Winchester family legacy, but it's also going to give them a new home base that will make Rufus' cabin look like…well, kind of a shabby cabin out in the woods (R.I.P. Rufus' cabin – you were shabby, but you were helpful).
A meeting with one of the last surviving members of the Men of Letters revealed that this secret society of learned men (and women) had a hub – or a bunker – that contained a wealth of supernatural information.  The man warned them to throw the mystical key into the bunker and then walk away, just in case this knowledge ever fell into the hands of demons.  But Sam and Dean?  Not so good with direction.  It's clear that Sam in particular is eager to get his hands on all of this information.
In next week's episode the boys immediately head to the bunker and find it in pristine condition, aside from an unfinished chess game and a long-evaporated cup of coffee.  But the power still works and when the lights come on Sam decides to borrow Dean's catchphrase, uttering "son of a" with disbelief.  The set, as Bob Singer promised during a recent Q&A, is huge.  And it's filled to the brim with enough esoteric texts to please Sam immensely.  Want to know more about what this new bunker will mean for the boys?  Read the Q&A with Singer.
Watch a sneak peek below for an all new episode of Supernatural on February 6 on the CW.  You can also browse through photos for the episode here and watch a preview here.
Visit our Supernatural page for spoilers, sneak peeks, reviews and more.
http://youtu.be/sH9oZSwBYb0