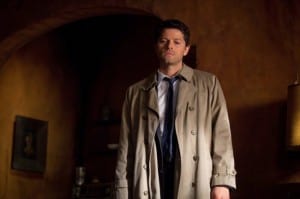 Castiel returns in next week's Supernatural and Naomi's control over him seems as firm as ever.  He visits the Winchesters to ask for their help because Crowley has unleashed some of his demons on a small town in order to find Lucifer's crypt.  According to a preview for the episode, we know that Crowley is actually searching for the Angel Tablet.  And so is Naomi, who seems desperate to keep it away from Crowley. 
But when Castiel recruits Sam and Dean for help, he doesn't tell them the entire story.  He does explain about Lucifer's crypt, but lies about what's inside, telling them that Crowley is actually searching for some text to help him decipher the Demon Tablet.  But Sam and Dean are still suspicious about Castiel, repeating that he hasn't been the same since he returned from Purgatory.  Will they find out the truth about Naomi's control over Cas in the episode?  And, if so, will they be able to help free him from it?
Watch a sneak peek below for the March 20 episode of Supernatural on The CW.  You can also browse through photos for the episode here.
Visit our Supernatural page for spoilers, reviews, sneak peeks and more.
http://youtu.be/n6fjf9znO8E