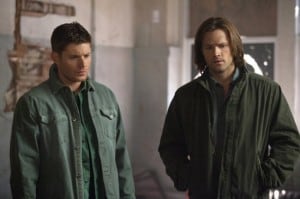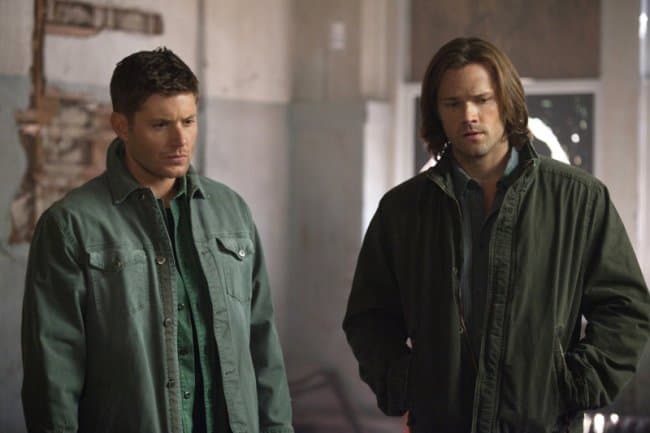 The Winchesters are jumping right into the season 8 mission in next week's episode of Supernatural. Â Their mission: to find a tablet from God with instructions to close the Gates of Hell. Â Their companions: the Tran family.
After witnessing the King of Hell kill his girlfriend, Kevin rightly concludes that other people he loves may be compromised by Crowley in his attempt to get the tablet before the Winchesters, so he sends Sam and Dean to collect his mother. Â She's surrounded by demons, but the boys manage to plan an escape route for her. Â She and Kevin then join the brothers in an auction for the tablet. Â I'm kind of surprised that the actual tablet they need seems to be up for auction, but the preview for the episode indicates that. Â Whatever they're actually seeking at the auction, they join the rich and powerful to – somehow – bid on this object.
Of course, the rich and powerful – even if they're demons and monsters – like to protect themselves, so metal detectors are set up outside of the auction house. Â Dean, of course, fails the security screening miserably. Â The "aw, shucks!" on his face when he first walks through the detector is amusing.
Watch a sneak peek below for the October 10 episode of Supernatural. Â Visit our Supernatural page for our most recent episode review and photos, spoilers and previews for upcoming episodes.