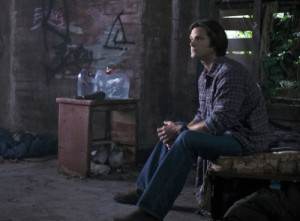 Season six of Supernatural has seen and will see the return of some old characters (such as Rufus in episode 6.04 "Weekend at Bobby" and the reappearance of Tess, as is evidenced by these on-set photos we previously posted).
Now, The CW has revealed that we should expect to see another old foe return. The demon Meg, to be precise. Meg's been showing up in one form or another since the very first season of Supernatural. She was first played by Nikki Aycox, then Jared Padalecki and, most recently, played by Rachel Miner. You'll recall that we last saw Meg in episode 5.10 "Abandon All Hope", the same episode where Ellen and Jo died. Meg had been in a underground room while Lucifer questioned Castiel about his allegiance to the Winchester boys. After Lucifer left to take care of a ritual, Meg had taunted Castiel until he escaped the trap he was in and left her burning by holy fire. Obviously she's survived.
Meg will be reunited with the Winchester boys while they're working for Crowley in episode 6.10 (which will probably air on December 3). The official episode synopsis says:
Meg (Rachel Miner) kidnaps Sam (Jared Padalecki) and Dean (Jensen Ackles) and tries to force them to tell her where Crowley (guest star Mark A. Sheppard) is hiding. Sam makes her a deal — they will help her find Crowley if she promises to torture him for information about how to get Sam's soul back. Castiel (Misha Collins) joins the fight but finds it difficult to work with Meg.
What I don't really understand is exactly why Crowley needs Sam and Dean's help to retrieve the alphas. Shouldn't the self-appointed King of Hell be powerful enough to bag these monsters himself? After all, he and some other demons swooped in at the end of the last episode and spirited away the alpha vampire. Or is there something else going on with Crowley that we don't know about? Is he really responsible for bringing Sam and Samuel back to life and does he even have the power to return Sam's soul?
Speaking of Sam's soul, it looks like we're going to have to wait a while before it gets put back in his body Zap2it reveals:
As for when we'll see the real Sam Winchester? We're hearing that the Winchesters will make some significant progress in the last episode before the holiday hiatus, but it won't come without a hefty price.
That doesn't seem all that surprising. After all, Supernatural likes to leave us hanging during the winter hiatus. The question is, how will the boys end up getting Sam's soul back and what will be the fallout of reuniting it with his body?
Make sure to tune in for an all new episode of Supernatural on November 12 at 9:00 p.m. You can also view a trailer and two sneak peeks (here and here) for the episode. You can also take a peek at promo photos for the November 19 new episode, which features fairies! And, if you missed this, an interview with Misha Collins reveals a few spoilers about what's in store for Castiel this season.
clarissa @ tvovermind.com
twitter.com/clarissa373
twitter.com/tvovermind