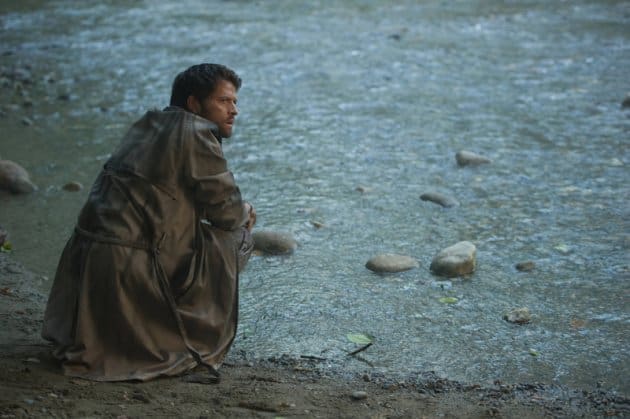 We've seen Castiel's time in Purgatory play out briefly through flashbacks in the second episode of Supernatural (oh, that cliffhanger ending!), but soon more of his fate will be revealed.
(Warning: the following contains spoilers.  Read at your own risk)
During a visit to the Supernatural set* in September, Misha Collins dropped a big spoiler: Castiel is getting out of Purgatory.  That's right, folks, whatever the reason our favorite angel was trapped in that dimension, he's making his way back to earth.  Misha didn't share the actual process of how Castiel gets out, but that's just details, isn't it?
As Castiel gets back into the groove, we'll see something that isn't always typical for Supernatural: Castiel spending some time with Sam.  Now that Cas is out of Purgatory, Misha (when asked if Cas might have any interaction with Sam if he doesn't feel very charitable towards Benny) said that the show has just begun "playing out any dynamic between Sam and Cas" but then went on to jokingly bemoan that he hoped this would stop because "that means I'm working with Jared more."  As for Sam's feelings on a closer relationship with Castiel, star Jared Padalecki joked that "Sam's always thought Cas looks weird.  Weird hair.  His nose is kinda funny, the jacket…."
But seriously, Sam will be happy when Castiel gets out, despite their uneven history: "I think when Sam was actively hunting, I think he and Cas never saw eye-to-eye and Cas understandably had some resentment for Sam.  I mean, Sam did canoodle with the very thing that Castiel hates the most…with demons.  So Cas, being the noble type that he is, always held that against Sam.  And Sam is a smart guy, he gets that.  I feel like now, Sam…Sam's had a tendency to try and take the higher road, [which] sometimes put himself in a bad situation like 'good intentions pave the road to hell', but now he's just happy to see Cas."
Don't miss a new episode of Supernatural on Wednesday, October 24!  Visit our Supernatural page for previews, photos, reviews, spoilers and sneak peeks.
*Travel and accommodation provided by Warner Bros. Television