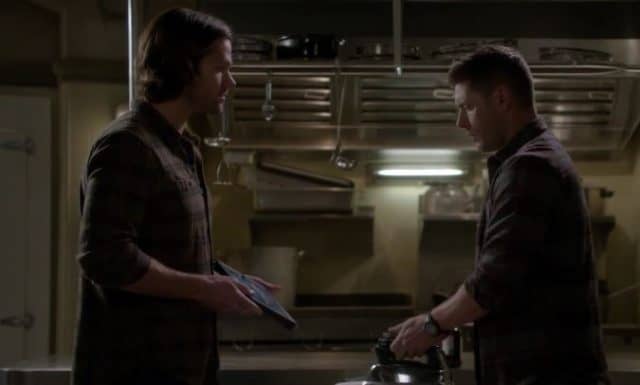 Sam and Dean are still searching for Amara and Lucifer in tonight's episode of Supernatural, and if this clip is any indication, they may be getting closer to finding her.
In the sneak peek below from this week's all-new hour, titled "Don't Call Me Shurley," Sam shows Dean a news story about a man who killed himself after murdering a co-worker. Everyone who knew him said he was a "perfectly happy guy" before he snapped, which has Sam and Dean thinking that he could have been possessed or possibly even been soulless, since Amara could have consumed his soul for dinner in between torturing Lucifer/Castiel.
However, while this intriguing new development should definitely lead Sam and Dean in an interesting direction in tonight's Supernatural (I mean, Chuck does come back tonight, so this episode will hopefully be something special), that's not the best part of the clip. What makes this scene worth watching is a pretty hilarious exchange between the brothers, which I won't spoil here. You need to watch it for yourself.
Supernatural airs Wednesdays at 9 p.m. on The CW. Check out the clip from "Don't Call Me Shurley" below:
ROB BENEDICT RETURNS — Amara (guest star Emily Swallows) unleashes a dark fog on a small town, causing everyone to go mad. Dean (Jensen Ackles) and Sam (Jared Padalecki) realize this is a stronger version of the original black vein virus Amara previously unleashed. They team up with the sheriff to protect the town but their old remedy no longer works. Meanwhile, Chuck (Rob Benedict) returns with an interesting proposal. Robert Singer directed the episode written by Robbie Thompson.
[Photo via YouTube]