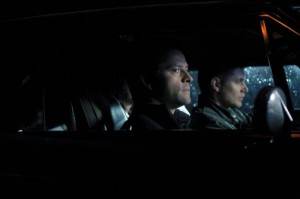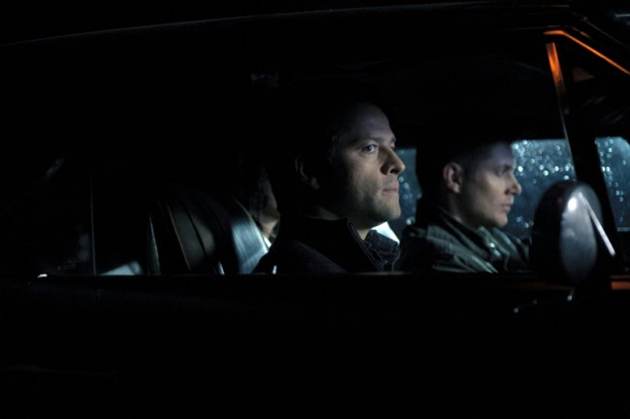 One of our favorite Supernatural angels was last spotted in episode 7.17. After Sam had a breakdown and was committed to a mental hospital, Dean went in search for a true healer that could fix his brother. What he found was a man named Emmanuel, who was actually an amnesiac Castiel. Dean brought his old pal back to save Sam, but didn't want to reveal his true identity until they were faced with a group of demons they couldn't get past.
Castiel did manage to smite the hell out of the demons and remembered everything, including the sins he had committed in an effort to defeat Raphael. Later, he was unable to heal Sam, as the wall in his head was simply too crumbled to piece back together. Feeling horribly guilty for having put Sam in this position, Castiel was able to "transfer" Sam's Hell hallucinations to himself, leaving him in a sort of comatose state in the mental hospital. The Winchesters left Meg to watch over Castiel.
Castiel is scheduled to return in the May 4 episode of Supernatural, titled "Reading is Fundamental". Meg calls the Winchesters to let them know that their old friend is awake. How this happens, we don't know. But we do know that a teenager named Kevin (guest star Osric Chau) gets hit by a bolt of lightening and is turned into a reluctant prophet. The Winchesters believe Kevin is the key to finally defeating the Leviathans, but two Archangels (remember those?) return to claim Kevin for their own purposes. Will Castiel reunite with the Winchesters to fight off Heaven's soldiers once again?
This episode was written and directed by fan favorite writer Ben Edlund, who is not only a terrific writer, but also penned the last Castiel-centric episode "The Man Who Would be King".
Supernatural is currently on hiatus until April 20. For more coverage of the show, including spoilers, photos, reviews, sneak peeks and more, browse and bookmark our Supernatural page. You can also watch the latest Hulu episodes on our page.
Note: Wow, there's a lot of back and forth in the comments. Normally I wouldn't bother updating a post, but I think we should settle the ratings debate for 7.17 once and for all. I don't think that the ratings for that episode are in any way indicative of the popularity of the Castiel character, either in a positive or negative manner. The Hunger Games movie opened that Friday and was extremely popular (you should all see it, I thought it was great!), which likely did affect the live ratings. The DVR numbers were still good and The CW is a network that pays a great deal of attention to DVR, Live + 7 and online ratings, perhaps even moreso than other networks. Whether or not the ratings were slightly lower (or even higher) for that particular episode doesn't speak to Castiel at all. At this point, Supernatural is a show in its 7th season. The ratings are what they are. The only thing that will likely affect the ratings in a meaningful way is a season premiere or finale, or the eventual series finale. Whether you bring back Castiel, Bobby, or even Jeffrey Dean Morgan, chances are nothing big will change. The show occasionally dips for a single episode, but not enough to have a significant impact.
The only thing that is important is the fact that both The CW and Warner Bros. are comfortable enough with the ratings that the show will very likely be renewed for an eighth season.